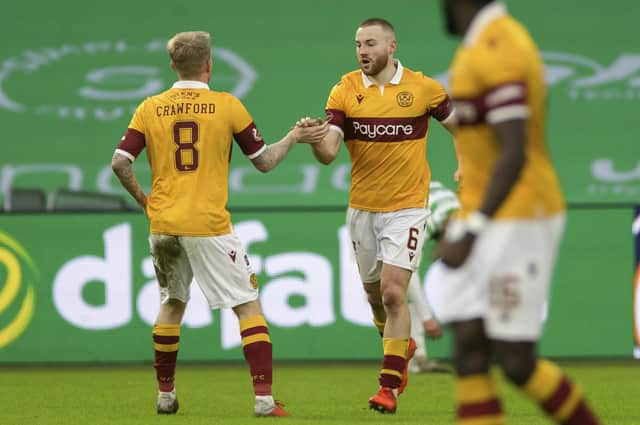 Motherwell's Allan Campbell celebrates a goal with Robbie Crawford during their side's Scottish Premiership match against Celtic on Saturday, February 6 , 2021. Photo: Steve Welsh.
The Glasgow-born 22-year-old, out of contract in the summer, didn't rule out a move at a later date when asked about his future today, February 12, at a pre-match press conference, however, saying only that he's looking no further ahead than tomorrow's home game again Hamilton Academical.
"I am not really bothering about that just now," said Campbell, a product of the Steelmen's academy, having joined up at the age of 10, and a member of their first-team squad since October 2016.
"My focus is just playing football. I just love playing football and I am enjoying my football, and I am just looking forward to the weekend and hopefully I'll keep putting performances in and keep getting wins.
"There is no point in thinking about what's going to happen. You have to just focus on the here and now.
"I have always been like that, always just focused on the next game and making sure I give my all for the team and get results for this club."
The Scotland under-21 midfielder has been cited by boss Graham Alexander as a model professional and good role model for other young players looking to secure first-team football, and he said he will continue to work hard to try to improve his game.
"I have carried on doing what I do. I come in, work hard and try to improve myself," he said.
"I have always kept my head down, and I keep grafting away and trying to do my bit. Any success comes from that, and I will keep doing that.
"I just want to be the best player I can be, and if that is coming in a wee bit earlier and staying a bit later, I will do that.
"I can definitely feel the improvement over the years.
"I have been able to establish myself in the team and that has been the main thing.
"When I was younger, I was just trying to get an appearance and I have over 100 games now.
"Every season, you look at your performances and see what small percentage you can add to become better and I will just try to keep doing that."
Campbell expects a typical South Lanarkshire derby tomorrow, he said, against a side three places and eight points behind them in the Premiership table."The games are fiery and aggressive, with a lot of tackles, and there have been ups and down.
"We've won a few and lost a few, but we hope to win this one at the weekend.
"They are a tough team to play against. They get in your faces and make it hard, but we just need to stand up to that and match them in that way and then show our qualities."
Alexander revealed earlier this month that 'Well had rejected big-bucks offers for Campbell but didn't say from whom. Clubs reported to be interested in him at the time, though, included Millwall and Hibernian.
Tomorrow's game at Fir Park kicks off at 3pm.
Motherwell, now ninth in the Premiership with 28 points from 27 games after beating Kilmarnock away on Wednesday night, February 10, courtesy of a 71st-minute goal by Campbell, haven't got the better of their bottom-placed neighbours since a 3-1 away victory in August 2019.
Since then, they've lost 2-1 at home in December 2019, drawn 0-0 away and lost 1-0 at home last year and got beaten 3-0 away at the start of January.