Nat Phillips' first Old Firm experience before Celtic move came in Rangers' media room
Nat Phillips recalled his first Old Firm experience from inside the bowels of Ibrox when his new side Celtic beat Rangers 1-0 in front of no Hoops fans.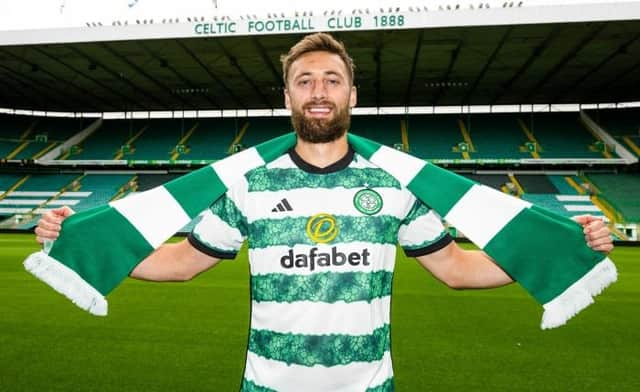 The 26-year-old defender joined Celtic on loan until January from Liverpool just before the first Glasgow derby of the season on September 3 and was not part of Brendan Rodgers' playing squad.
However, with only Rangers fans inside the stadium after Celtic had rejected 700 tickets for safety reasons, he remained in the hosts' media room to watch the game on television but still left at the end of the match desperate to make his debut, which could come against Dundee on Saturday.
Phillips, son of Jimmy Phillips who played for Rangers between 1987 and 1988, said: "I was already really excited before that game but it certainly gave me a taste of what it is all about.
"I can't really overstate (how much he is raring to go), I just want to get playing games for the club and get contributing.
"I had to watch it from inside so you could obviously hear the atmosphere but I didn't get to see it for myself.
"It (fixture) has obviously got a huge reputation and the lads did well to get a result. Obviously I wanted to be in and around the dressing room and amongst the boys, taking it all in.
"Inside the media room itself wasn't as much fun as it might have been in the stands but at the same time, it might not have been that much fun in the stands as the only Celtic person there but I enjoyed it.
"It was good to be there and supporting the lads. The lads dug in well, it was tough at the end but the lads showed that when their backs were against the wall they can dig in and it was a huge win."
Phillips has enjoyed Champions League football with Liverpool and is looking to get more this season with Celtic, whose group includes Feyenoord, Lazio and Atletico Madrid.
Celtic's opener is against Feyenoord in Rotterdam next Tuesday night and the former Bolton player said: "It is really exciting. It is probably the pinnacle of football for a lot of players.
"It is a great opportunity to be involved in that as well. I have loved every time I have been out in the Champions League, it is obviously that next level, competing against the biggest and best in Europe.
"At Liverpool, those Champions League nights have a reputation for being special and I have heard it is the same at Celtic so I am looking forward to experiencing that."