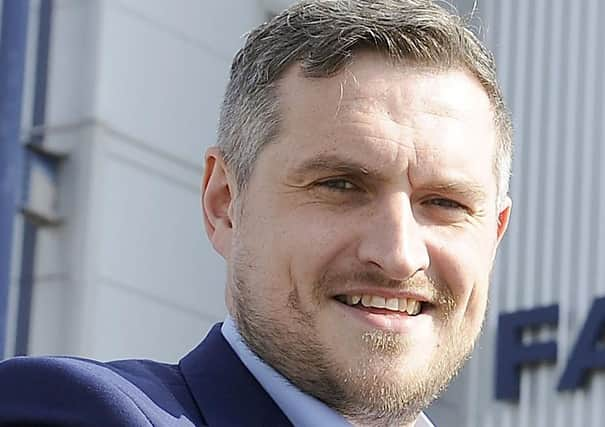 It's pleasing to know that Falkirk chairman Gary Deans will be involved in the SPFL league recontruction task-force – because the recurring theme of his statements makes so much sense.
If Mr Deans can encourage his 'one-issue at a time' approach then the taskforce has a real chance of making progress.
The league reconstruction debate is an emotive one – and it does become tangled by self-interest, what appeals to fans broadly and individually, and what appeals to the the TV companies. And crucially, what is financially viable.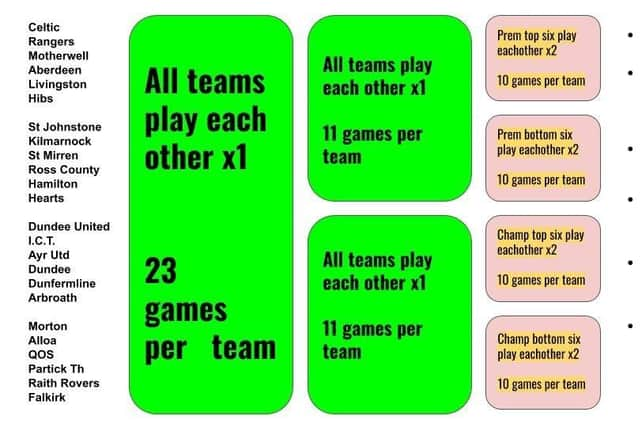 Break down the issues and you seem to be left with several desired outcomes to be considered by the 14-representative panel
-- Supporters want more variety, or at least less monotony of four times a season.
-- TV companies and sponsors are said to desire four Old Firm matches where possible.
-- Teams lower down want fairer cash distribution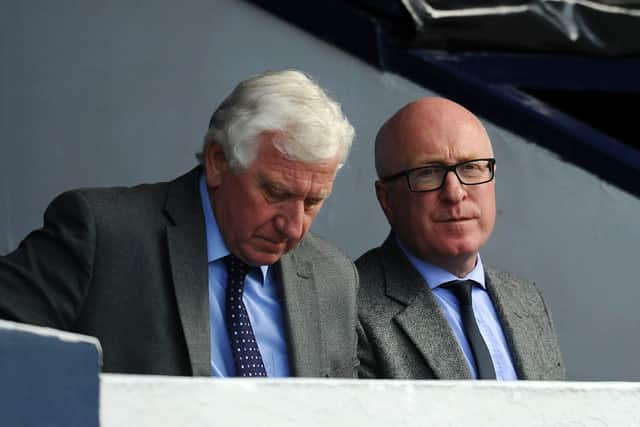 -- Teams towards the top end want to minimise the risk of falling off the financial cliff edge of relegation
-- Teams want fairness in fixtures home and away
-- Somewhere along the lines we've got to blood young players for the future in this cut-throat set-up

So, addressing all of those desires, here it is, an unlikely proposal, but one which ticks all of those boxes above and follows in the mould of American sports leagues where the sports marketplace thrives.
Across the pond they'll play everyone, but some more than others. They'll play far-flung teams once, then their conference rivals a few more and local divisional rivals the most. We're too small a nation to split geographically and split by quality as we do now, and it's fine.
But broaden the fixture base. Three big crowds from Aberdeen, Dundee United, Rangers, Celtic, Hibs or Hearts going to Alloa, Arbroath or Dumfries while the Wasps, Doonhamers and Lichties take a trip to the ones who don't and then vice versa the following season? That drops a large gate income at The Recs, Gayfield and Palmerston and gives players an opportunity on a grand stage against the best in the country.
Teams will still play one another in their own league, home and away for a true reflection of their standings too before splitting based on quality with meaningful games post-split and the ability to level these up, home and away.I'm not suggesting a 24-team league. More two leagues of 12 with a broader fixture base. Play everyone, then play within the separate leagues and then make a split. Premiership teams who start the season in the top division end it there, and same for Championship teams. It's just more variation in opponents before the split and spreading the cash from gate income.
Teams who drop out the top league at the end – they're still getting the big-gate pay-days they did albeit fewer in the Championship but the gates are there. Return the next time and they're guaranteed a home and away against the bigger sides and bigger gates, make the top six and double that. A rich reward.
And speaking of incentives – think of the carrot of qualification from League One to be guaranteed a visit from the country's biggest clubs and crowds and a visit to others.
Teams will still play their nearest competitors four times, twice home and away, equal. Tighter, more competitive - and winnable – and that should satisfy the four Old Firm games desire too more years than not.
The downside to all this is 44 games – a lot. Especially for teams competing in Europe or deep into cups. But Rangers already want Colt teams involved in the league – they could play some youngsters against the lowest ranked sides to give their main players a rest – valuable experience for the few, and maybe a chance for the other teams too.
But more games – with different teams and more freshness – equals more gate income.
And what of the League One and Two sides like Stenhousemuir? Regionalising the leagues won't help the central-based Warriors' travelling costs – would Colt teams work? I'm not so sure and especially not if the youngsters are needed to compete in a 44-game season. You might need to tweak the League Cup too.
It's not a perfect proposal, but then, what is?
Taking the issues one at a time and finding a solution will help – but what won't is a temporary sticking plaster or inaction altogether.