Ally McCoist is adamant that Rangers have "closed the gap" on derby rivals Celtic since the arrival of Michael Beale as manager - admitting he has been impressed with the work the Englishman has done since taking the reigns.
Beale has won 13 of his 14 league matches since replacing Giovanni van Bronckhorst in the Ibrox hotseat back in November but the Light Blues have not been able to make a dent in the Hoops' nine points lead at the top of the Scottish Premiership with nine games remaining
The only two matches he has failed to win have been against Ange Postecoglou's side, including the 2-1 in the Viaplay Cup final defeat at Hampden Park last month. Both teams will meet twice more in the league and have been drawn together in the semi-finals of the Scottish Cup.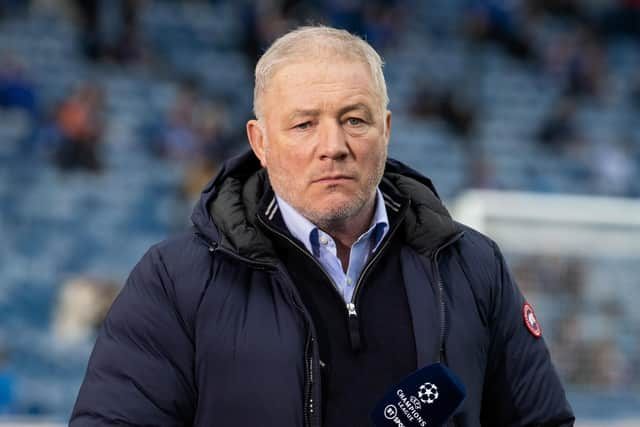 Rangers all-time record scorer McCoist with 355 goals believes the two Glasgow club are now more closely matched than they were prior to Beale's arrival and given their consistent run of form and refusal to drop points against other sides, he reckons the upcoming derbies have now become more important than ever.
Speaking at the national stadium on Monday, McCoist said: "There's a train of thought that Celtic just slightly have the advantage at this moment in time but I don't think the gaps i what it once was. The League Cup final, there wasn't a lot in it. Celtic probably just the better team. The league game at Ibrox (2-2 on January 2), Celtic started well but Rangers should have won.
"I think Michael has done well. He'll know himself he's got to just tweak it a little bit. He'll obviously look to strengthn. Without giving up on this year, which I don't think for a minute he will do or has done, he'll know that he'll need to make changes in the summer.
"I hope he's given the time - and I'm sure he will - to get a couple of transfer windows behind hm where he can build his own team and his own squad. He's only dropped two points, which is absolutely excellent.
"But it's a fact now that when you're manager of the Old Firm, the games between the two teams are probably as important as they've ever been, maybe even more important. You look around the rest of the country ant although there's some good football, generally speaking, other teams aren't taking points off the Old Firm as perhaps they once did.
"To back that up, Motherwell are vastly improved under Stuart Kettlewell, but I don't think they've beaten Rangers in the league for about 20 years. That's incredible. I can remember going to Fir Park and getting a 3-0 beating, and I remember Celtic losing the league at Fir Park. Those days seem a long time ago.
"I know Celtic lost at St Mirren earlier in the season, but those results are very, very few and far between now. I actually don't think it's great for the league. Rangers' two best performances away from home this season were arguably in Edinburgh, against Hearts and Hibs, and then Celtic went to Tynecastle and were excellent.
"Bearing that in mind, the importance on the Old Firm games is great, if not greater than it's ever been. I'm not saying they're the only four games that matter, but they have become so important.
"It used to be that games at Tynecastle, Easter Road, Pittodrie, Tannadice, Fir Park were very difficult, there were no guarantees. That's changed a little bit. Michael Beale is doing a good job but the time will come when he's got to win Old Firm games."
In the wake of another weekend of highly controversial VAR decisions in the top-flight McCoist reckons it's time for Scottish football to get rid of technology after previously admitting he was an advocate for it.
He added: "I think it's been a bumpy ride everywhere. I'll be brutally honest with you, I thought it would be a great thing, I did. I thought anything that rights a wrong must be a good thing. But I've changed my mind, it's just driving me crazy. It's taking three to four minutes to make decision and fans are... it's actually in many ways, people will say it's adding to the exciting, the waiting.
"I think it's the opposite. I think supporters now are thinking hard about celebrating a goal because they don't know. That's the stage it's got to. So at the very least it's needing brushed up. It wouldn't disappoint me if we didn't see it again. I'm all for having goal line technology and that kind of stuff, but it would not be breaking my heart if we didn't see it again."
*McCoist was promoting Viaplay's live and exclusive coverage of Scotland v Cyprus and Scotland v Spain. Viaplay is available to stream from viaplay.com or via your TV provider on Sky, Virgin TV and Amazon Prime as an add-on subscription.