Michael Beale claimed Rangers could have scored EIGHT goals against Hibernian at Easter Road - but was delighted to settle for a comprehensive 4-1 victory last night.
On an emotional night in the Capital as Hibs paid tribute to late owner Ron Gordon following his sudden passing at the age of 68 last month, Rangers responded to falling behind through Connor Goldson's only goal after eight minutes by laying siege on the hosts goal.
James Tavernier's spot-kick took his tally to 12 league goal for the season before two goals from Croatian striker Antonio Colak in either half and Fashion Sakala's low drive wrapped up maximum points in convincing style for the Light Blues.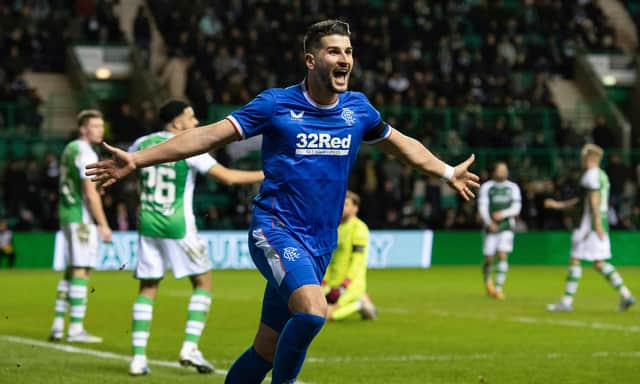 Beale pointed out similarities in his team's performance to the 3-0 victory over Hearts at Tynecastle last month and felt they could easily have scored more.
He admitted: "It was very equal to the last time that we were in Edinburgh across the city. The energy was right from the first minute, I thought the front three pressed really well, the midfield backed it up behind and the one poor moment on the night was how we defended the set play.
"Our organisation was strong for the first goal but after that, and even before that, I thought some of our play was good. Certainly after that we were excellent. We scored four and probably should have scored double that and that is not being disrespectful. We missed big chances tonight.
"We had some fantastic play and the energy was good. That all comes from the out of possession stuff, really. Away from home if we're defensively strong and we regain the ball in interesting areas we can punish teams, that was maybe the story of the game. Defensively, as impressive as we were with the ball, it all came off the work ethic of the whole team, the whole outfield players pressing, running and moving together.
"We won a lot of the duels in the game and it left Hibs a little bit vulnerable. We could have been more ruthless but in a professional game when you score four goals away from home you shouldn't be moaning, you should be happy your team have scored that many."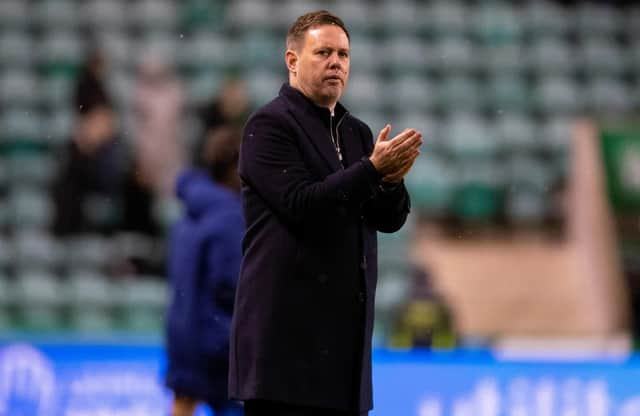 Deflated Hibs manager Lee Johnsonhas called on his squad to "step up" in big games after watching his side's seven-match unbeaten run fizzle out. He said: "It was a brilliant start, you could feel the emotion in the stadium and I think the boys fed off that, and then very quickly we showed too much naivety and a lack of technical quality.
"It was a bit hot potato in terms of the ball and we've been so confident and so settled but you're moving up a level when you come up against a team like Rangers. You've got to be brighter in your mind, your touch has to be softer, you've got to know your next pass that little bit quicker and all around the pitch we were nowhere near good enough.
"Youb have to give credit to Rangers - they were snappy, they were on us. Our players need to step up in these big games. We've conceded chances and goals of our own doing. In these game you have to be smarter and you have to know when to control the tempo, when to speed it up."