The Glasgow Clan ice hockey team is backing the LGBTQ+ community by making their next home match a Pride Night - with stars to wear specially designed jerseys during the game to show support for the LGBTQ+ movement.
Following the Elite League Ice Hockey game against Nottingham Panthers, on Friday, January 20, at Braehead Arena, the limited edition jerseys will be auctioned off to raise money for the TIE (Time for Inclusive Education) charity.
The charity tackles homophobic, biphobic and transphobic bullying and prejudice in schools through education and works with teachers and national decision makers, produces resources, curriculum materials and delivers services in schools to raise awareness, heighten knowledge, and foster good relations.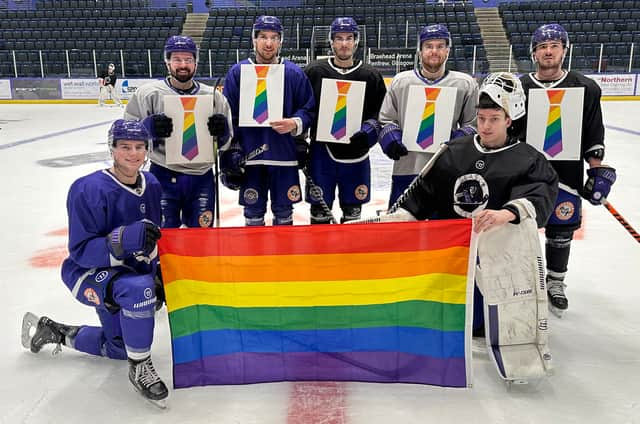 Co-Founders of TIE - Jordan Daly and Liam Stevenson said: "As a small charity, we are grateful to have been chosen as the fundraising recipient for Glasgow Clan's annual Pride game and we look forward to sharing our work with fans and supporters on the night.
"Our fundamental purpose is to address the prejudice and bullying that LGBT young people and those with LGBT family members can still experience at school.
"We believe that all young people deserve to see themselves reflected in their learning, to learn about pioneers and historical figures who are just like them, and to grow up confident in who they are.
"We are appreciative of the efforts and generosity of the fans - the Purple Army - and the management, staff and players of Glasgow Clan."
Gareth Chalmers, Braehead Arena managing director said: "The Glasgow Clan and our fantastic fans have been long-time supporters of the LGBTQ+ community and have demonstrated on many occasions that ice hockey is a sport open to all.
"Our Pride Game against the Panthers will be a colourful celebration of the LGBTQ+ community and a resounding statement that everyone is welcome in the Clan ice hockey family."