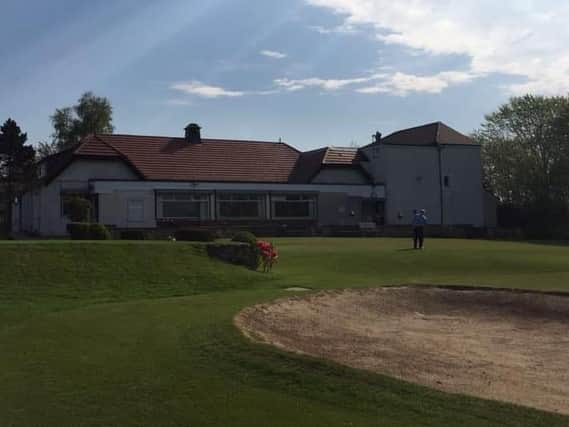 Although courses in England can reopen from Wednesday subject to safety protocols, Scottish layouts remain shut for the foreseeable future due to an extension of the Covid-19 lockdown and social distanding measures imposed by First Minister Nicola Sturgeon.
Bellshill Golf Club secretary James Forrester told us that preparations for the return of play at his course are in full swing, with the metal donut concept – helping minimise potential infection by players not having to touch their golf ball to lift it out the hole – key in these plans.
He said: "I know lots of companies are now jumping on the bandwagon of having this device (resembling a donut) to fit over flags and slide into the bottom of the hole.
"Attached to that donut is a bent arm section. All that happens is, after the golfers putt and the ball goes in the hole, they just put their putter on the bent part of the arm, slide it up and it lifts the ball out the hole.
"We're hopeful that this device could be a terrific innovation in helping prevent any spreading of the virus among golfers.
"Our guy's made them so we'll go with it. Prior to the lockdown, the way it was done was that the cup was put in upside down and was sticking above the ground.
"So it really meant that you could hit the ball as hard as you liked and as long as it hit the white cup it was classed as being in the hole which was not as good."
From today, the public in England are permitted to play golf alone or in a two-ball with another member of their household at courses that can prove they can follow the return-to-golf protocols laid out by the R&A.
But Scottish Golf reiterated this week that "nothing has been finalised" regarding any detail of golf course openings with government.
The conflicting legislation has arisen from the fallout of Prime Minister Boris Johnson's announcement on Sunday night that lockdown restrictions were being eased in a few areas.
However, the only measure being relaxed in Scotland for the time being is that people are now permitted to go outside and exercise when they wish, rather than just once a day.
With strict lockdown in all other areas set to remain for at least another three weeks, courses like Bellshill have been conscientiously getting ready for whenever they can reopen.
James said: "Even before the lockdown we had already introduced some of the things that the R & A are saying, like no shaking of hands, no raking bunkers, no flagsticks.
"Looking ahead to coming back, normally we would have players going out at seven-minute intervals, we'll extend it to 10 minutes.
"We're hopeful that a new system will allow players to input their scores for each hole via a mobile phone (stopping scorecards being swapped).
"We have suggested having a one way system to get to the first tee."