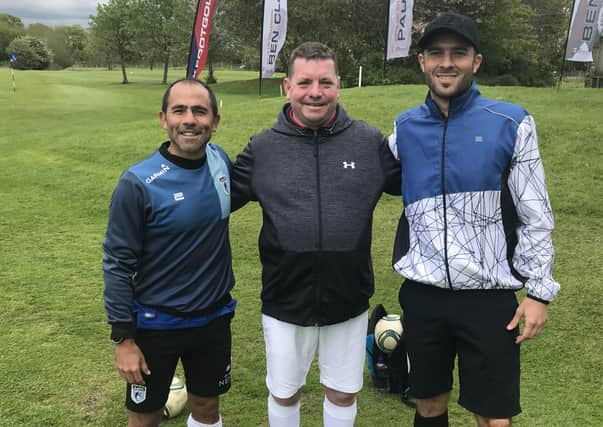 The two joint captains of Cumbernauld Footgolf Club, based at Palacerigg Golf Club, are part of the Scotland squad which will face Rest of the World in an exhibition match at Greenock Golf Club on Saturday.
The match will also act as a curtain raiser to the Scottish Open which will be played over the same course on Sunday.
Fraser (27), from Grangemouth, is currently ranked eighth in Scotland after five competitions on the 'Scottish Tour'.
Local man Donny (47), from Condorrat, plays in the seniors (over-45s) age group and tops the rankings after winning his last four senior events, the West of Scotland Championship, the Kilmarnock Championship, the Edinburgh Open and the Highlands Open.
Because social distancing is relatively easy to achieve, footgolf is one of the few sports able to get back to something approaching full swing, although there are still some travel restrictions in place due to Covid.
Donny said: "There will be a couple of Dutch internationals playing, Spanish players, English players, people from Ireland and maybe France if they are allowed over due to Covid.
"But they won't be coming from as far afield as they were going to be, from the United States and places like that."
Footgolf is a sport which has been growing in popularity in recent years. Last weekend Donny organised a special junior competition at the club and is hoping to get more kids involved.
He said: "We want to encourage more people in the community to take up the sport, maybe kids that aren't getting to play football and things like that just now."
Indeed Donny's son Sam McGoldrick is proving a chip off the old block, having won the last five junior events in Scotland.
Fraser, who himself has only been playing footgolf competitively for a year, also believes interest in the sport is on the rise.
He explained: "The tour in Scotland is very strong at the minute and the footgolf association of Scotland have been working hard to promote the sport.
"It combines the rules of golf with the striking of a football. The holes are 21 inches wide and it is played using a size 5 football.
"I have been selected for my first Scottish cap and I can't wait to represent Scotland again having previously high jumped and triple jumped at Scotland junior level.
"At each event we have had over 60 players with categories for women, over-45s and under-16s. The game is very accessible and a great way to keep active for all."