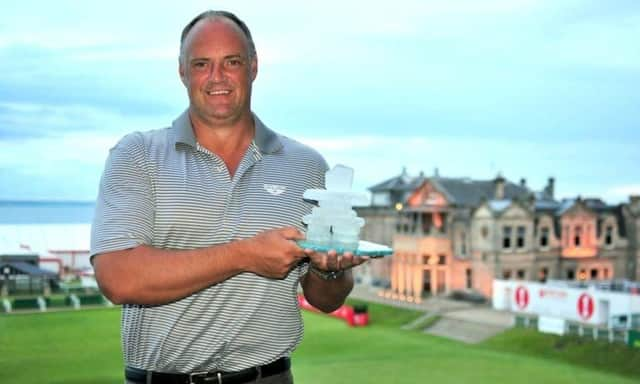 Graham Proctor who was a former Captain at Greenfaulds High School and who was one of the football team in 'Gregory's Girl' passed away on Saturday, May 2 with complications associated with Motor Neurone Disease. He was 54.
Graham moved to Cumbernauld just before his second birthday with parents May and Ted and also attended Carbrain and Condorrat Primary.
A former RAF Leuchars weather forecaster who owned a guest house in the home of golf, Graham created the St Andrew's Legacy to use the game at its home to assist ex-service personnel and also provided the inspiration for a scheme to help some become caddies.
The wounded soldiers flew from as far away as Australia and the United States to be motivated and inspired on the world-famous course and elsewhere in Scotland.
And Graham's passing inspired many of those veterans to take to social media to pass on their own recollections of the time they shared with him and how he recognised their potential.
The tributes included one from Etienne Aube who said:"I have great memories of this gentleman. He made a dream come true for so many golfers. You will not be forgotten gentle giant!"
Another, Brian Ash, said: "You changed my life. You used to call me 'big fella'. I missed you when I left Scotland and I miss you more now. God speed my friend. May the greens roll in your favour."
St Andrew's charity representative John Stewart, who also worked with Graham on the St Andrews Legacy initiative, said: "Graham left a big wake behind him and we are all going to remember him for a long time to come."
Last year Graham's good works were honoured at an Early Day motion in the House of Commons by former North East Fife MP Stephen Gethins.
The family opted not for a traditional funeral but a celebration of Graham's life which featured an emotional journey from his adopted hometown to Dundee Crematorium.
Mum May of Lomond Court said: "The journey from St Andrews was most touching. Neighbours - some in tears- lined the street as the cortege left the house.
"We passed the guest house Graham owned and as we did so, people were standing outside waving golf clubs.
"The cortege was allowed to drive along side the 18th Fairway of St Andrews golf course.
"Many club members were lined up all clapping and, again, waving golf clubs."
Graham is also survived by dad Ted, brother Stuart, wife Marion and children Greg and Heather.