History at Hollandbush Golf Club as brother and sister appointed gents and ladies captains
In an historic year for Hollandbush Golf Club, its youngest ever club captain is taking office in the same year his sister is ladies captain.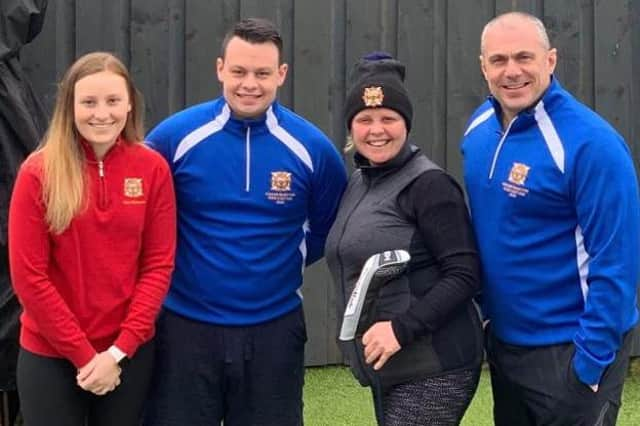 Aaron McIntyre, 22, and younger sibling Lucy, 18, of Kirkmuirhill, have already been busy during their early weeks in charge at the Clydesdale course.
Hollandbush GC manager Mags Cathcart told the Carluke and Lanark Gazette: "The club was founded in 1954 and this is the first time we've had a brother and sister as gents and ladies captains in the same year.
"I think it's awesome, especially at their age, that they're committed to the club, want to see it prosper and do their best for the club.
"They are both very enthusiastic about their golf. They play at every opportunity they can.
"They are enthusiastic about the members, they are very chatty and outgoing. The whole family is a very friendly family and absolutely ideal to be involved in the social roles of club captains.
"Lauren Miller was 17 when she was lady captain in 2018, so Lucy isn't the youngest to have that role at Hollandbush, but Aaron is the youngest club captain here.
"I think it's by about 11 years. Gordon Brown, who is still the match and handicap secretary at Hollandbush, was the youngest before Aaron and I think he was 33 when he had the role.
Both Hollandbush members for over seven years, eight-handicapper Aaron and Lucy, who plays off 30, were respective members of the men's and ladies teams in 2019, the last season in which leagues were played before the coronavirus pandemic.
Their parents Graeme and Brenda, whom they live with, are also Hollandbush members.
"Aaron and Lucy have already written a club newsletter each and got it out to the members," Mags added.
"Both of them sorted out their Lanarkshire Golf Association League team matches we hope will go ahead in June and July.
"The ladies play greensomes, so that's four people going out and at the moment we're only allowed twoballs. So it just depends what happens next but they're hoping to be very busy and they would be even busier if the clubhouse got opened up.
"Presentations and get togethers aren't a thing just now but they hope that will come to complete their year."