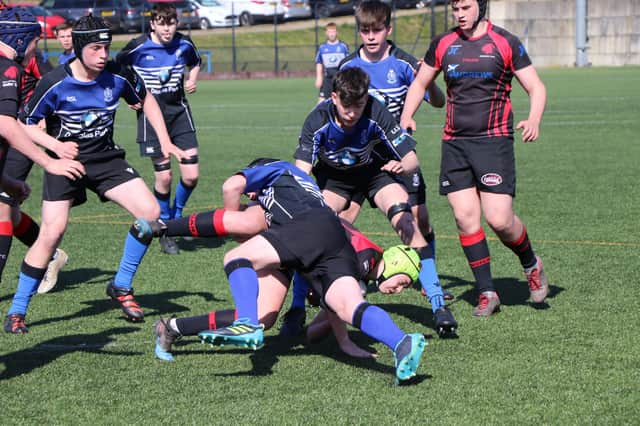 Biggar triumphed in the under-16 and under-18 tournaments – the latter of which is called The Calder Trophy - at an event held on Saturday, April 23 which featured over 900 players from Primary 1 to under-18 level.
The event was once again dedicated to the memory of the man who started it all in 1991, the late Alan Calder.
Festival convener – and Alan Calder's son – Dalziel player/head coach Graham Calder, said: "It was simply brilliant to be back after a two-year hiatus (due to coronavirus).
"We saw fantastic, hard, competitive rugby from all age groups – all played with a spirit of respect and friendship."
There was a strong turnout across all age groups from local clubs including hosts Dalziel, Hamilton, Lanark, Strathaven and East Kilbride.
Squads from further afield, including Melrose, Ardrossan and Carrick fielded strong teams whilst a touring club from Northern Ireland – NI Civil Service – returned to the Festival for the eighth successive year.
Meanwhile, Biggar Rugby Club women's ace Emma Orr came off the bench in the second half to play a pivotal role for Scotland in their final 6 Nations match away to Ireland last weekend.
Biggar past president Alistair Stewart said: "Massive plaudits to Emma. Once again she was largely deprived of a chance in attack but shone in the less glamorous defensive role.
"Her tackle technique is that of a model performer while her speed on one particular occasion to turn, chase back and win the ball on the ground to prevent what was a certain Ireland try was exceptional."
The game ended in a cruel 15-14 defeat for Scotland who led until the final play of the game.
The season may be over with regard to the 6 Nations but there is still much for Orr to look forward to this year.
First up is the Commonwealth Games in July, when Scotland will field a VIIs team, while Orr must also have her sights on a place in the squad for the World Cup which takes place in New Zealand in October and November.