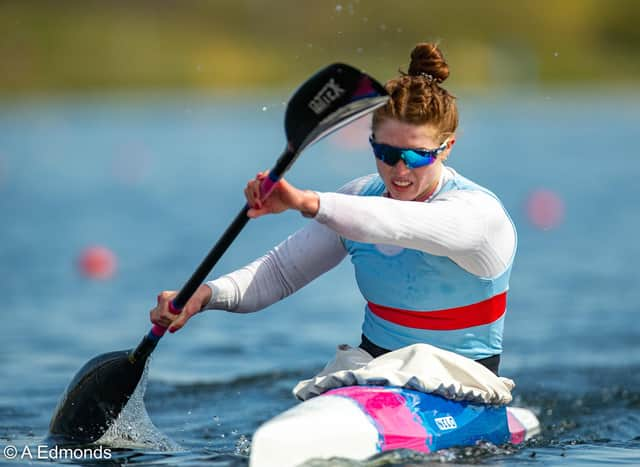 The Motherwell paddler backed up her emotional victory in the women's K1 200m on day one at Holme Pierrepont with wins in the K1 500m and K2 500m, to further boost her hopes of securing a spot at this summer's rescheduled Olympics.
Kerr will now feature in each of those races at at May's ICF European selection event in Szeged, Hungary, where a place in Tokyo will be on the line.
Following her first-place finish in the K1 500m in a time of 1:52.23, she pointed towards her earlier victory over the shorter distance as providing her with the self-belief to get over the line once again.
"The 200m and the 500m are very different events, but yesterday did give me the confidence in terms of my start and my top speed," she said.
"I still get nervous about that last 300m but I think I've shown myself today that it's not that much of an issue.
"In general I'm a bit of an over thinker and I'm always worrying about the worst case scenario, but producing a performance like that does help give me a lot of confidence going forward.
"In previous years I've featured quite a lot in crew boats, and you know then that you can get away with things to an extent if you have strong teammates.
"Going out on your own is pretty tough.
"I knew it was something I needed to work on and I think I've taken some big steps, so I'm certainly really proud of myself."
The final race of the weekend saw Kerr link up with Rebeka Simon in the two-person event, with a dominant display and a time of 1:45.93 capping off a memorable couple of days on the return of competitive action.
Despite their lack of race time together Kerr believes an instinctive relationship between her and Simon will stand them in good stead in Hungary, where she is hoping to book her place on sport's greatest stage.
She added: "During lockdown we were sending each other pictures and videos of our sessions, because we knew it was going to be a big opportunity this year. I think we used that to spur us on.
"The more races we do the more improvements we can make. We can put down a solid race but it's all those little gaps we'll be focusing on now over the next four weeks.
"I feel in a really good, confident position after this weekend. It's nice to see all the work you've done behind the scenes come to fruition, and I can definitely take a lot of confidence from how I've performed."
British Canoeing is the national governing body for paddlesport in the UK.