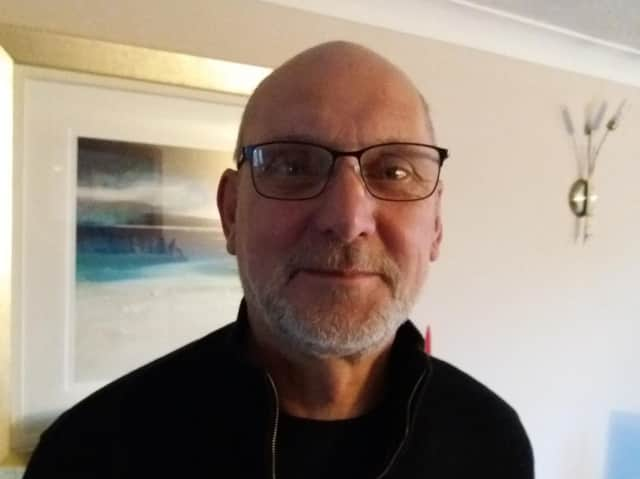 Biggar Rugby Club secretary Mike Booth fought an eight-month battle against Scottish Rugby's decision
After eight months of campaigning, the appeal, heard via video-call, was emphatically thrown out by rival clubs and Scottish Rugby Union council members at a special general meeting, following an adjourned AGM, with 90 voting against Biggar, 78 for and 26 abstentions.
Mike outlined Biggar's case during a seven-minute virtual talk following a speech against the motion by union president Ian Barr, and he told us: "The AGM motions went through with a lot more votes than I thought they would, so I was thinking 'oh, they're in the mood here', but it wasn't to be.
"It was a great disappointment because we'd worked hard at it and we'd tried to keep the other clubs informed about what we thought was wrong with it all.
"I guess that's one of the most disappointing things, that a lot of clubs think it's all right to carry on in that manner – in other words, that you can use flawed processes and so forth if that's what you need to do to get your outcome.
"The Biggar argument was that it was a flawed process that was used to do the consultation and their extensive consultation with clubs was less than two days back at the end of March.
"The SRU hung a lot of importance on what the clubs had decided, which I think was a conscious decision on their part to say 'look, it was the clubs that decided this' so that they could back out of it, but in fact, the clubs hadn't really been given the proper consultation.
"When you think that there should be over 300 people voting, especially when it's online, it's quite poorly attended, isn't it?"
Mike felt that the wording within the SRU's initial consultation email to clubs on March 23 was wrong.
He added: "That was the one with the five questions in it.
"Do you want null and void or do you want these other four options?
"That kind of naturally biased the null and void vote.
"It should have been simply worded 'do you want null and void or do you not want null and void?', then after that they could have come back and said 'how do we deal with this?'
"As with all big organisations like this, they've got to a point where the by-laws don't let you get through with a fair hearing, I don't think, because you can always claim one by-law is blocking you."
Losing the appeal means that Biggar will not be playing Tennent's Premiership rugby when competitive fixtures resume for the start of the 2021-22 league season around late summer next year.
And Mike, this week praised on Facebook by the Biggar Rugby Club hierarchy for his sterling appeal efforts, is looking forward to the players launching a fresh title bid.
He said: "We go back, win National 1 again and go and frighten those boys in the Premiership that didn't want us anywhere near them.
"What's happened has heightened the appetite of me and everyone at the club to get up into the Premiership.
"We want to prove them wrong.
"I think we will be able to retain the core of our playing squad because we're Biggar Rugby Club, and you have to remember that a lot of lads came back when we went up into National 1.
"I know we had at least three players who had moved to other clubs to get more senior rugby played, but when we moved up to National 1 they came back to play with us and that was very heartening.
"There's no doubt that, with the standard of rugby being played by the Biggar lads when winning National 1, we would have been well up the ranks of the Premiership."
The Carluke and Lanark Gazette contacted the SRU seeking a response from them to some of the points raised by Mike, but we had still received no reply to that inquiry by the time we went to press on Tuesday evening.
Biggar had called for the Premiership to be expanded to 11 teams to accommodate them without displacing any clubs already in it.