LISTEN: The Chemical Brothers reveal spectacular new live show heading this way - here's how to get tickets!
Big beat techno music icon Ed Simons of The Chemical Brothers has revealed the duo have a spectacular and memorable new live arenas show – and it's heading this way!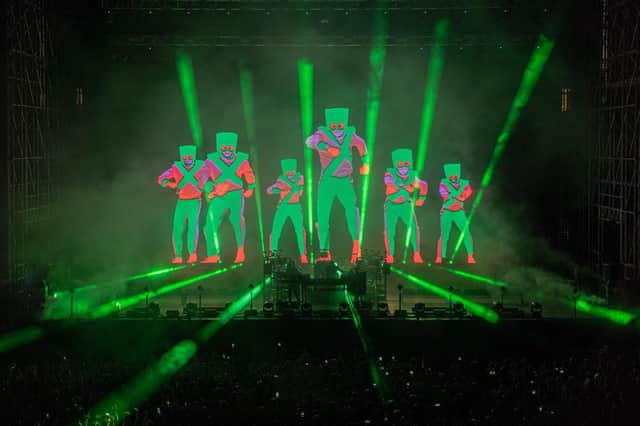 And the out-of-this-wordl laser, lighting and animation visuals are thanks to Doctor Who film-maker Adam Smith and Marcus Lyall.
Adam, who directed eleventh Doctor Matt Smith, has worked with electronic dance music pioneers Ed and Tom Rowlands to turn their tracks into immersive visual experiences since they started out almost three decades ago.
LISTEN HERE: In an exclusive chat - listen to full interview with Graham Walker here - Ed paid tribute to their long term collaborators, who have been a key part of their success, as they head out on a six date autumn UK tour to promote their new and tenth chart-smash album For That Beautiful Feeling.
BUY TICKETS: The Chemical Brothers play OVO Hydro, Glasgow (October 26), AO Arena, Manchester (27), First Direct Arena, Leeds (28), 3Arena, Dublin (November 1), Utilita Arena, Birmingham (3) and The O2, London (4). Tickets from ticketmaster.co.uk, gigsandtours.com and ticketmaster.ie (Dublin only).
The Block Rockin' Beats and Setting Sun hitmakers Ed and by Tom Rowlands play keyboards, add samples and filters over pre-recorded tracks, while the main focus live is on a huge screen, lights, lasers and all manner of special effects which effectively become the lead singer.
Film and stage sets director Adam, who first teamed with Noah Clark, has for more than 25 years worked with Marcus Lyall to design all the jaw-dropping visuals for electronic dance music pioneers.
The chart-topping Chemical Brothers have gone on to win six Grammy Awards, sold over 13 million albums, with six reaching the top spot, notched up close to 20 million singles sales, including 13 top 20 hits in the UK and their tracks have been streamed over three billion times.
Extraordinary multi-sensorial experiences have helped to establish their world-wide reputation as one of he most exciting live bands on the planet.
Dynamic visuals may have hidden any shy, modest, lack of self-confidence the band had about being on stage, when they started out as The Dust Brothers.
Ed admits: "We're not natural performers, not people who were necessarily in the school play.
"From the start we always wanted to have this kind of arresting visual quality to it. And we were lucky to be friends with Adam Smith. He did something for us on our first ever gig, having just projected images on us, not even a screen to kind of hide our diffidence about being on stage.
"It grew to this huge show that you see now. But that was kind of the early origins of it. Adam worked with Noah, and it's now Marcus Lyle.
"Whenever we're putting a new show together, it's with them and it's grown and grown. Lasers, balloons, confetti - it's all really about making a Chemical Brothers gig a really memorable thing and just as much as the music's kind of, in your soul, its the way the visuals and the music interact so it stays with you for a long time. It's about trying to create that crackle in the air, that sort of surrender, that people are feeling something so amazing.
"You know, it's something that we've probably got kind of an addiction issue with - we keep going out and kind of pursuing that kind of crowd response.
"We play a lot of festivals, but playing in arenas there is a roof, it's indoors and the sound is even better. You know, there's no kind of ambient light from the hog roast stall.
"The visuals are kind of really sparkly and we're really looking forward to it."The Chemical Brothers 2023 UK TourThu 26th October OVO Hydro, GlasgowFri 27th October AO Arena, ManchesterSat 28th October First Direct Arena, LeedsWed 1st November 3Arena, DublinFri 3rd November Utilita Arena, BirminghamSat 4th November The O2, LondonTickets from ticketmaster.co.uk and gigsandtours.com (UK shows) and ticketmaster.ie (Dublin only).