PREVIEW: Still Game to Beauty and the Beast – top events heading to Beacon Arts Centre
It's an iconic venue just a short hop from Glasgow and Inverclyde's Beacon Arts Centre is packing a punch with its end of year programme.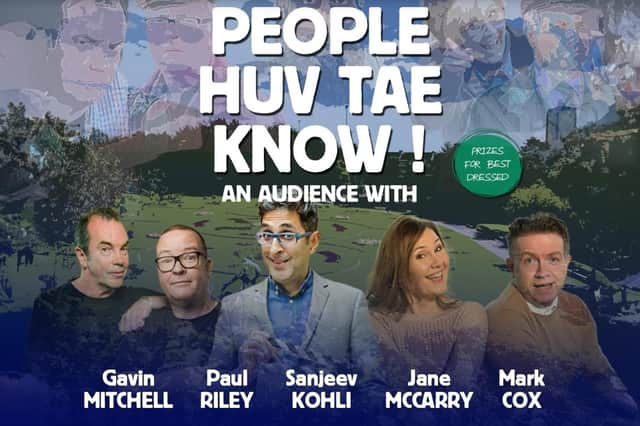 FREE GUIDE: For full details about the autumn/winter programme see the official free online eMag guide – CLICK HERE.
The arts centre is not only raising the roof with comedy shows, musical tributes and gripping theatre performances – it's also hosting up and coming artists and giving the community a vital chance to get involved in the arts.
The stars of Glasgow's famous TV comedy Still Game are lifting the lid on the show's secrets with a special People Huv Tae Know audience with Gavin Mitchell, Paul Riley, Sanjeev Kohli, Jane McCarry and Mark Cox, coming to the Beacon on Wednesday, October 4, 7.30pm.
Other highlights include the world premiere of visual theatre production Plinth, which will examine the role of statues, on October 12, 7.30pm, and amateur productions of My Fair Lady and Jack and The Beanstalk in November.
But the Beacon does more than theatre. Its gallery space showcases emerging artists and supports them as they start out in their careers. The airy space hosts thought-provoking exhibitions, curated by internationally renowned artist Fraser Taylor.
This autumn, Greenock artist Michael Hepburn is showing his Art of the Pastel exhibition, while Kilmacolm's Rab Wilson is bringing his Diverse Identities portrait show to Beacon.
Michael grew up near the Firth of Clyde and was inspired by trips 'doon the watter' with his father, who worked on the area's famous paddle steamers.
Lesley Davidson, acting joint director of Beacon Arts Centre, said: "There really is something for everyone to enjoy at the Beacon and we are always thrilled to welcome audiences from the local community and further afield."