Interview: Rick Witter on love affair with Glasgow and new Shed Seven album
The Shed Seven frontman on Glasgow sing-a-longs, growing up, connecting with the past and recording with Peter Doherty.
Watch more of our videos on Shots! 
and live on Freeview channel 276
Visit Shots! now
Shed Seven returned to familiar territory at the Barrowland Ballroom tonight. Next year represents the band's thirtieth anniversary together. For new album, A Matter of Time, Shed Seven's core members - vocalist Rick Witter, guitarist Paul Banks and bassist Tom Gladwin - reconnected with the classic albums that first inspired them to form a band, recording the album in Spain with new recruits Rob 'Maxi' Maxfield (drums) and Tim Wills (keys).
It's full of towering, arms-in-the-air anthems tinged with a familiar yearning melancholia. Special guests including Laura McClure, Peter Doherty and Happy Mondays vocalist Rowetta.
A Matter of Time is available to pre-order HERE.
"I think that's your headline: Shed Seven Have Grown Up."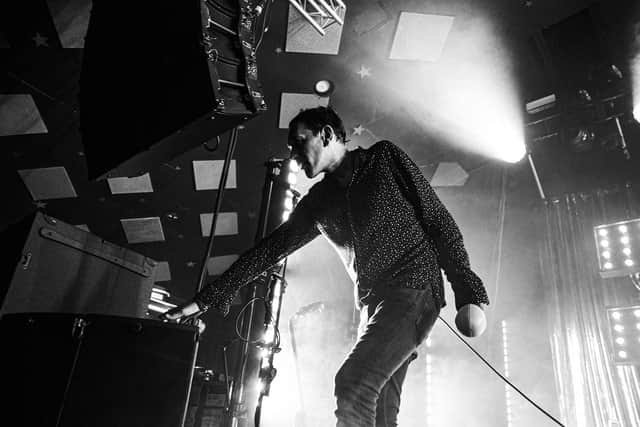 GlasgowWorld spoke to Rick Witter.
After all these years, does it feel like Shed Seven and Glasgow are in a mutual love affair?
I think we're going steady [laughs]. It's just amazing. The very first time we set foot on Scottish soil as a band, I was a bit concerned because we were supporting a band called Compulsion in late 93 or early 94. Our first Scottish gig was at King Tut's. Being the support band, there was probably nobody there to see us. They were all there to see Compulsion and most of their crowd were around the corner at the bar.
We probably had about 20 people watching us basically. The first song we played of the set was Dolphin, which went on to be quite a big single for us. There was a little smattering of applause. It wasn't a good start but that was the only blip.
This is the first Shed Seven album for more than six years, what was the starting point?
When we started the writing side of things, we didn't have any set agenda at all. We never really have. Me and Paul wrote all of this album and we started writing songs together when we were 13. So we did start looking back at bands that we used to dance along to in our respective kitchens together.
We wanted to get back to our youth in a way. There are a lot subtle little reference points to our past, but also, equally, it's a very Shed Seven album. It sounds very current, it sounds very fresh. So it's exciting. I'm looking forward to people being able to hear it. We've had a couple of songs out already, but that doesn't tell the whole story. All the songs just seem a little bit different from each other, which creates a great entity.
You had the chance to call on fellow musicians for this album, why did you make those particular additions?
We've never done this before. It's something that we'd never even really considered in the past. I think in the nineties we were kind of a little bit on the outside. We always felt we were not invited to the party, I don't know why, but the fact that we're still here doing it means we were obviously doing something right.
I think in the past, even if we'd thought about approaching other artists and suggesting working together, I think we were probably a bit wary that we would be told to f*** off.
So it's funny, it's only now that we're suddenly starting to appreciate that other people might even have the slightest interest in wanting to be involved in what we do. Rowetta came about because Paul emailed me a guitar line, which is always what happens with us. He'll send me a guitar bit, like a few chords or something, and then I'll put a melody over the top of it and usually the first thing that comes into my head is what you would hear. I think if I sit there for hours trying to think of melodies, the game's gone, you have to move on. So whatever the Shed Seven song, it is usually the first melody that comes into my head is the one that's used.
I started hearing this melody to the particular song that Rowetta [from the Happy Mondays] featured on and then I put some words to the chorus of it and I just immediately just started thinking that just sounds like Rowetta, what I'm doing sounds like something she'd do. We've played with the Mondays in the past. We've bumped into each other at festivals a lot. I just reached out and said, "Rowetta, I've written this thing, I can just hear you on it, you fancy it?" And she was just, "I'd love to, absolutely love to do that", which is amazing having that. That particular song has a bit of a sound of the very early nineties about it, so it kind of all fits together quite well.
For the Peter Doherty one, we played the Bingley Festival a couple of years ago just before The Libertines on the main stage. While we're doing our set, I'm singing but kept looking to the side of the stage and seeing Peter stood there singing all of our songs.
That was interesting. We'd never met them before. So after the gig I went over to introduce myself and we were having a nice chat and he was telling me that in the nineties before they were The Libertines, he'd sit on his bed with his guitar and he'd learn Shed Seven songs in the nineties, which was a really nice thing to hear.
Immediately my ears pricked up and I'm thinking, right Peter, do you want to come and sing a new album? And he was saying he'd love to. So it's nice to have different types of people on there as well. It makes the whole album, it flows really well, but it's all slightly different from each other, which for me would make me want to put it on again once it's finished.
If you've been writing songs since you were 13, you are now at a very different stage in your life. How do you still connect with aspects of your youth in the music and not find yourself writing about car parking spaces at the supermarket or queues to get your coffee in the morning?
It's one of these things, it's just always comes to me. Some of the songs are more difficult than others. You can get yourself caught going down the rabbit hole, but my take on it is always just to write about universal things because people can pick up on that a lot more than me just talking about what I think about some particular moment that's just happened.
I just think singing about love, death, sex - all of these themes are on this new album, by the way - it's all universal so anyone can hear it.
And even if it isn't particularly exactly how I imagine that song, people can take it to their own hearts and then experience it in their own way, but they're more likely to do that if it's about relationships or breakdowns, whatever it might be. So we've always just been in that. We've always chose that kind of format as a way of being universal really.
There are songs in your touring set that you've had a relationship with for almost 30 years, do you ever hear things in some of your tracks that make you tempted to revise early recordings or do you sometimes take a different direction with them live? You're unlikely to break out a jazz version of Going for Gold but I wonder if you are ever want to revisit some songs?
Well yeah, there are certain songs that we wrote as late teens, early twenties, that I do listen to and think, why didn't we do that? Why didn't this happen? I guess that, anyone who creates something, they're always going to pick up on bits where, with age, you realise that perhaps that could be slightly different.
But the great quality with us is we can revisit things. And you're right, you wouldn't want to totally change the whole image of the song, but you've got artistic licence enough to perhaps take it somewhere slightly different and make it just sound more like it should have been originally. So for example, there's a song called Long Time Dead off our debut album. It just sounds really innocent and a bit naive recording-wise. I sound about 12 on it.
And so we went back and rerecorded that in the late nineties because we just wanted to hear it with the proper luscious strings on it and we wanted to put a bit more power into the emotion side of it. So I'm really pleased we did that.
There's a few songs we've ended up doing that with, that inevitably come out as B-sides or bonus tracks on things.
The great thing with this album is, I'm hopeful that in 20 years we'll think that we got it right. I guess, with age - we're all kind of 50 now - has come a little bit of experience. We're not just rushing things for the sake of getting it out there.
So, for the last album, and this particular album, we've grown up. I think that's your headline "Shed Seven have grown up."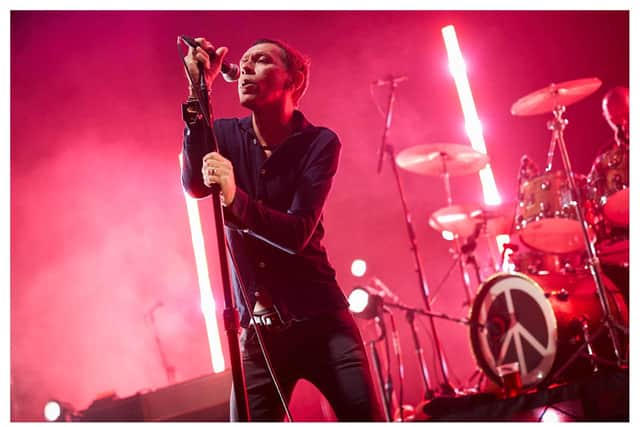 What's your aproach now to your live shows when you are in such familiar territory?
It's a weird old thing really. The songs are so ingrained in us and we've played them all so many times over the years, it just becomes second nature. We certainly are primarily a live band - we put gigs on, they sell out quite quick and people know what they're going to get. They know they're going to come and we're going to put every ounce of effort that we have into the show.
There's nothing worse than going to see a band and leaving afterwards and hearing crowds going "oh, that wasn't very good. I won't come here again." That would be just the worst possible scenario for me.
Another thing - in the nineties, if anyone made a mistake on the stage, I'd be the first one giving everyone evils. Whereas now I actually really enjoy it when something goes slightly awry because you are human and you can have a laugh about it, and in that respect, you can get the crowd right on your side straight away. It's funny what you learn the older you get.
A Glasgow crowd, we don't just sing the chorus and versus, we also sing the drum and guitar parts. How do you enjoy being joined by a Glasgow choir from the audience when you come here?
Listen, I'm not just saying this, it's just amazing. People just look like they're getting lost the moment.
There's nothing better than being stood on the stage, singing your songs and looking out at a crowd of people that just look like they're having the best night they've ever had. It's just one of the greatest things in the world really,
You've been playing at the Barrowlands for decades - you've been inducted into their Hall of Fame - where does that sit in the pantheon of classic music venues you have visited?
It's incredible. You hear so many bands saying that it's up there as one of their top gigs ever. Which I would also say.
I think it might be something to do with the spring floor, which just somehow adds to everything. It feels a little bit like you're floating.
I love the domed ceiling with all the stars on it. The sound is always about amazing but its the crowd, our crowd, that make it all happen at a gig. They are the reason we are still here.