Young Fathers win The Scottish Album of the Year Award for Heavy Heavy
Young Fathers 'Heavy Heavy' was tonight announced as winner of The Scottish Album of the Year (SAY) Award at the prestigious Ceremony in Stirling's Albert Halls.
Watch more of our videos on Shots! 
and live on Freeview channel 276
Visit Shots! now
Young Fathers claimed the title ahead of a Shortlist including Paolo Nutini, Becky Sikasa and Joesef, taking home £20,000 and the coveted title of Scottish Album of the Year for the third time.
Paolo Nutini's debut record 'These Streets' was awarded the Modern Scottish Classic Award, in association with YouTube Music, with the Paisley singer-songwriter's manager and sister taking to the stage to accept the award on Paolo's behalf as he's currently in the USA. No Windows was named The Sound of Young Scotland, winning a £10,000 funding package to create their debut album. Since its inception in 2012, The SAY Award has now distributed over £350,000 in prize money, recognised 240 Longlisted albums and championed Scottish music from legends of the scene to new and emerging artists.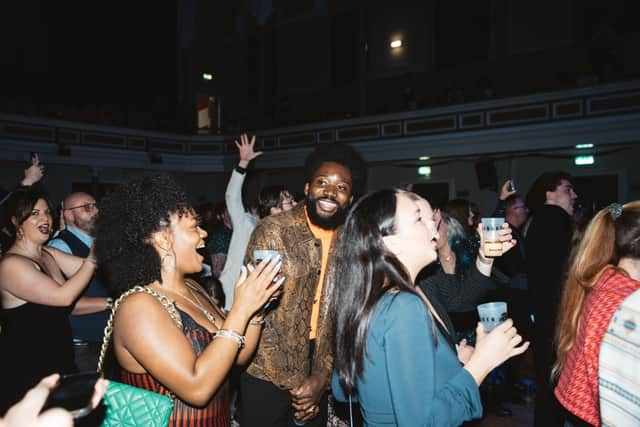 Alloysious Massaquoi, Young Fathers winners of The Scottish Album of the Year Award 2023 said, "Thank you to the judges, and all the nominees and everybody that's turned up tonight - it's a bit radge! The album is called 'Heavy Heavy' for a reason, it's the trials and tribulations of everybody. It's one of those things where we sort of had to start from scratch, it had been 4 or 5 years since we put something out since Cocoa Sugar. For us to get back together and get excited again with each other, all the ideas that everybody else brings - it's great and this is topping off a great year.
"We did two shows at the Barras and I think the Scottish crowd is one of the best - it's always nice to come to these places because it feels very homely! So it's mad, it's topping off a great year for the guys and I. One has responsibilities - he's got two bairns so he's not allowed out.I want to take a whole bunch of shots but I'm a lightweight so I just want to watch myself!
"Watching the young folk coming up there - it's inspiring. I don't think the guys and I will ever lose that - we look at stuff right across the board. There's a lot of room for inspiration here and we gain a lot of inspiration right across the board. Thank you to everybody. Thank you, we love you all and appreciate it. "
Paolo Nutini, winner of 2023's Modern Scottish Classic Award for 'These Streets' said, "It was nice to hear that 'Last Night In The Bittersweet' was being recognised and that means a lot and hearing the news about 'These Streets' was a surprise to say the least. Mental news that I never expected for a minute!
"All I can say is thank you so much to those who the music means something and for listening to the songs. It's nice to be mentioned in the same breath as these people who I have a lot of respect for.
I really appreciate it and I'm proud to be a part of it all. I'm sorry I couldn't be there on the night to say thanks in person but please know that it means a lot. Thank you."
No Windows, winners of The Sound of Young Scotland Award said, "Thanks so much to The SAY Award for this award. If you couldn't tell, we didn't write anything - it's such an honour to just be here. We were just happy for the day out. Thank you to everyone here. Scotland right now is such an exciting time and place for music and it feels like a complete honour to be a part of that and be part of such an incredible group of musicians."
The SAY Award Ceremony was held at The Albert Halls in Stirling for the second consecutive year. Hosted by Nicola Meighan and Vic Galloway, the event saw the country's top stars celebrate the very best of Scottish music - past, present and future - in a resounding display of the strength and diversity of Scotland's music industry.
Young Fathers are the first act to win The SAY Award for the third time. Their two previous wins came in 2014 with 'Tape Two' and 2018 with 'Cocoa Sugar'. Young Fathers won the overall final prize from a record-breaking eligible album list of 437, whittled down to a Longlist of 20 and then a Shortlist of 10.
Listen to The Scottish Album of the Year, 'Heavy Heavy' by Young Fathers here.
Robert Kilpatrick, Interim CEO and Creative Director of the Scottish Music Industry Association (SMIA) said, "In 2018, Young Fathers made history by becoming the first artist to win the Scottish Album of the Year Award twice. As the band continued on a meteoric rise; defying definitions with their sound and bringing a level of energy and power that's uniquely theirs, tonight sees them claim Scotland's national music prize for the third time with their strongest and most mesmerising body of work to date.
"Their win signifies the importance of recognising and investing in outstanding Scottish talent, and through the support of The SAY Award (and many other well-deserved accolades), Young Fathers continue to capture the magic and bring it into the lives of music fans worldwide.
"Tonight's win further cements their world-class status, and through doing so, Scotland's global reputation as a country overflowing with outstanding and idiosyncratic creative talent. They're a band we can be proud of, a band we can be inspired by and a band who, quite simply, keep astounding, delighting and enthralling us.
"This year's Ceremony also saw us shine a spotlight on Scottish music's bright future and rich past, with dream-pop Edinburgh duo No Windows winning the Sound of Young Scotland Award and now set to make their debut record. Paolo Nutini's iconic 2006 debut 'These Streets' was also recognised as 2023's Modern Scottish Classic Award winner; celebrated through a specially curated performance featuring some of this year's SAY Award Nominees who chose it as the winner.
"Past, present and future, Scottish music is the stories and soundtrack of our lives. The SMIA is proud of its ongoing commitment to strengthen, empower and unite Scotland's music industry, and The SAY Award once again highlights the cultural impact and contribution of outstanding Scottish music."
Head of Music at Creative Scotland, Alan Morrison, said, "Young Fathers' stunning SAY Award hattrick crowns a magnificent year that saw the Edinburgh trio reach the UK Top Ten Album Chart for the first time and deliver the summer's most talked-about set at Glastonbury. One of the foundation stones of this success was Creative Scotland's funding of Heavy Heavy's recording costs, proof that public funding keeps artistic excellence and cultural diversity at the forefront of Scotland's boundless music scene. Congratulations too to No Windows whose edgy but ethereal dream-pop puts the future of our music in adventurous hands."
The Ceremony opened with 2022 SAY Award winner Fergus McCreadie who returned to the venue for the first time since winning, and closed with an epic live set from electronic DJ and producer TAAHLIAH. The audience enjoyed an electric performance from one of Scotland's most exciting rising talents Dead Pony, to mark 10 years of PRS Foundation's PPL Momentum Music Fund, before it was time for a special set celebrating the Modern Scottish Classic Award winner, Paolo Nutini's 'These Streets'. Guest vocalists Becky Sikasa, Shortlisted for this year's SAY Award, and Brownbear, Longlisted this year, took to the stage with The SAY Award house band (led by former SAY nominee Joe Rattray of Admiral Fallow) to perform hits including 'Jenny Don't Be Hasty', 'These Streets', 'Last Request' and 'New Shoes'.
Each Shortlisted album was celebrated on the night with acts including Joesef, Bemz, Andrew Wasylyk and more collecting their awards onstage and recognising the talent on offer from this year's list.
The SAY Award Shortlist for 2023 in alphabetical order was:
Andrew Wasylyk Hearing the Water before Seeing the Falls
Becky Sikasa Twelve Wooden Boxes
Brìghde Chaimbeul Carry Them With Us
Brooke Combe Black Is the New Gold
Hamish Hawk Angel Numbers
Paolo Nutini Last Night In The Bittersweet
Young Fathers Heavy Heavy