On Monday, February 6, Guide Dog Autumn took to the stage with the LAMS cast for her first rehearsal playing the character of loveable dog Rufus in the production.
Autumn will be joined by fellow Guide Dog Floss in splitting the role across the four performances from March 23 to 25 in Lanark Memorial Hall.
Melissa Reilly, LAMS president, said: "We're delighted to welcome Guide Dogs as our charity partner.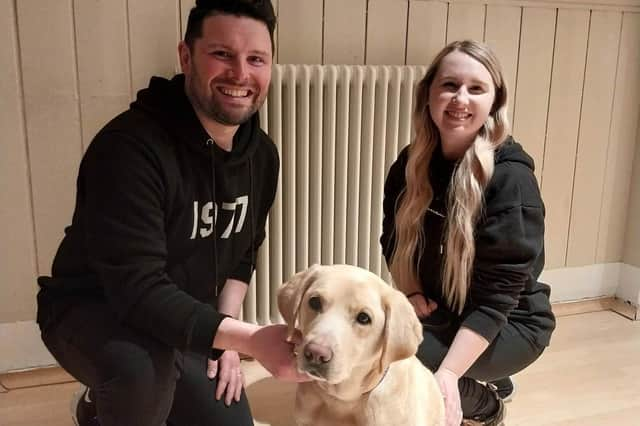 "It's a perfect fit as the production features two lovable dogs, Bruiser and Rufus. LAMS is an independent Scottish charity and we fund our annual production through a variety of fundraising events and activities, patronage, club membership, merchandise and ticket sales.
"During the pandemic, members came together virtually to participate in activities to support other local and national charities, including Macmillan Cancer Support, Alzheimer Scotland and The Brain Tumour Charity.
"As we begin the final countdown to Legally Blonde in March, we're really proud to be able to support another charity, Guide Dogs, in raising awareness of the important work it does across the country."
Guide Dogs Scotland's Edinburgh, Forfar and Glasgow teams provide life-changing mobility services to adults, children and young people with sight loss throughout Scotland.
Sandi Johnson, community f undraising relationship m anager, said "Six years ago, I felt unable to leave the house alone due to my sight loss. I had completely lost my confidence.
"Since then, I have become a Guide Dog owner, with my amazing dog Kane. He has enabled me to go out alone and be more independent. I then started volunteering for the charity that has helped me to re-build my life. And now, I am a passionate employee working full time for Guide Dogs – this charity has truly changed my life."
Tickets are on sale now, priced from £12.50, at www.sllcboxoffice.co.uk, by calling 01555 673199 or visiting the Lanark Memorial Hall Box Office.
Guide Dogs will have charity bucket collections at all four performances.