Six of the best from local writers at Cumbernauld Theatre this Friday
Audiences are being offered the chance to enjoy six sensational short plays courtesy of some of Scotland's finest up-and-coming writers, actors and directors.
Watch more of our videos on Shots!
and live on Freeview channel 276
Visit Shots! now
One of those writers may already be well-known to readers – Alan Muir, the one-time former chief reporter at The Herald newspapers in East Dunbartonshire.
Now working as a public relations officer for East Dunbartonshire Council, Alan is also making a name for himself as a successful playwright.
And his latest work, aptly entitled Hack, will form part of a fantastic night of entertainment at Cumbernauld Theatre on Friday, September 15, presented by Short Attention Span Theatre (SAST).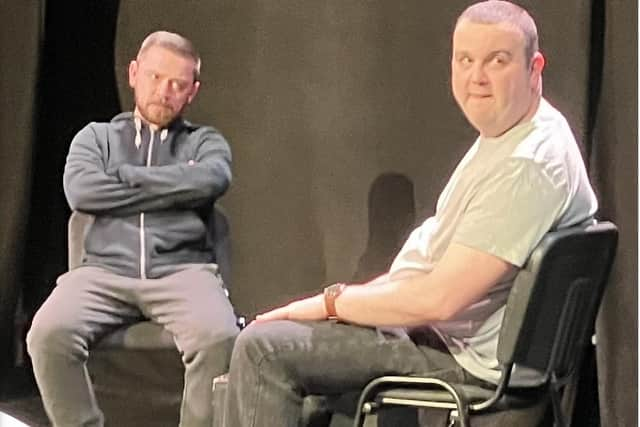 The night before, it will get its first outing in the Prin thouse in Ayr.
Hack tells the story of two strangers who share a fateful journey through the twilight zone of a big city. As the pair dodge traffic jams and swap jibes, they must also navigate class, morality, prejudice and profits.
Alan, from Cumbernauld, said: "I'm really excited about having work performed in Cumbernauld Theatre's Lanternhouse premises and in Ayr's Printhouse.
"They're cracking venues and we're working hard to put on a first-class anthology of plays in each.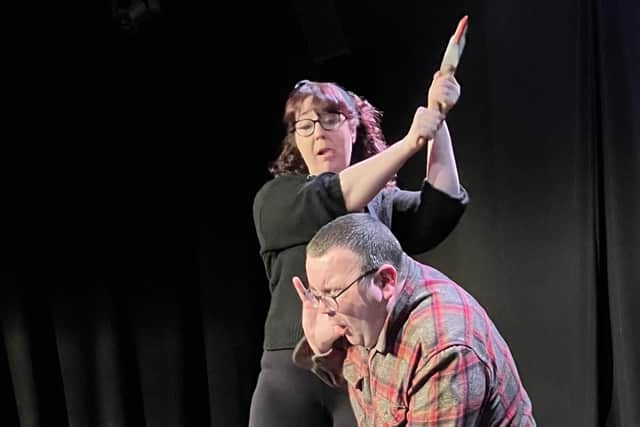 "I love writing but on stage is where it all comes to life; there's something about watching another world unfold in front of you in the company of others.
"We're offering audiences six short plays – all different stories, subject matters and voices. It's going to be great … and Lanternhouse is within walking distance for me!"
Alan has previously written for SAST and A Play, A Pie and A Pint at the Oran Mor, Glasgow. Previous works include Acquiesce (SAST), The Greatest (PPP) – awarded five stars by The Herald and four stars by The Scotsman – Scabby King (SAST), Losing the Rag (PPP) and Merry Christmas, Mr Marshall (PPP). He recently took part in the East by West UK/US Playwright Exchange.
Marking his play debut, Stevie McEwan from Bearsden will present Superstar – a comedy set in a job centre, where the last thing a deluded young guy is seeking is a job.
Stevie's work has already featured on BBC Radio Scotland and BBC Radio 4 Extra but Superstar is his debut play.
He said: "I really can't wait to see our plays under the lights of Lanternhouse and Printhouse.
"Across all six of our plays there's a variety of topics and I'm sure our audiences will be highly entertained. This is my first play and watching it being brought to life by an excellent director, Rebecca Wilkie, and wonderful actors is a thrill.
"I'm in great company with the writers too – these guys have all done some wonderful things. I'm looking forward to seeing each play in action."
David Bratchpiece from Motherwell will also present Linda In The Sky With Diamonds.
Based on a true story, it tells the tale of a nightclub cleaner who experiences some unexpected revelations about her life after inadvertently taking a dose of LSD.
David is a comedian, actor and writer who has performed stand-up comedy around the UK and written for television and radio.
In 2021 he co-authored the critically acclaimed book, Brickwork: A Biography of the Arches.
David said: "Short Attention Span Theatre has been providing a platform for up-and-coming writers and actors for some time now.
"You can always be guaranteed a great night out, with a variety of plays full of laughter, tears and everything in between.
"I'm really looking forward to seeing what all the writers have come up with this time and, of course, to see an excellent trio of actors bringing my new short play to life in these two cracking venues."
Hack, Superstar and Linda In The Sky With Diamonds are among half a dozen tales which will be performed during two evenings in Cumbernauld and Ayr – offering a blend of dark comedy, drama, family life, war and wonder.
It's all being presented by the acclaimed Short Attention Span Theatre (SAST), which is once again shining a spotlight on emerging and established talents from all over Scotland and beyond.
In addition to Hack, the line-up comprises Superstar by Stevie McEwan; Catch a Falling Knife by John AD Fraser; Between Us by Rachel Flynn; Warpaint by Jennifer MacRae and Linda In The Sky With Diamonds by David Bratchpiece.
Tom Brogan, co-founder of Short Attention Span Theatre, said: "We're delighted to bring our second shows of 2023 to Cumbernauld and Ayr – offering people the chance to see six brand new plays for less than the price of many tickets at the Fringe.
"Not only is it great value, it's a fantastic way to support grassroots theatre and a rare chance for audiences to enjoy a magical mix of comedy, drama and thought-provoking themes in their communities.
"I'm really excited about what's on offer. Tickets are selling fast so I'd advise everyone to book now to avoid disappointment."
Since its inception in 2015, SAST has been dedicated to supporting new voices in theatre and, with the help of a stellar cast of professional actors, it has helped transform raw talent into captivating performances.
Over the years, the company has presented the first theatre work by acclaimed authors Rachelle Atalla, Elissa Soave and Kirkland Ciccone, as well as the celebrated short story writer Chris McQueer.
For the latest information on SAST and its upcoming productions, including its latest shows in Ayr and Cumbernauld, visit the website twitter.com/SASTSCOTLAND .
SAST is delighted to be presenting six of the best at Ayr's Printhouse and Cumbernauld Theatre.
Lanternhouse is a performing arts centre which is jointly managed by North Lanarkshire Council and Cumbernauld Theatre, a third sector arts charity.
This model promotes a sense of community ownership, while ensuring the venue is managed to the highest standards.