The first in print, in 1890, claims that it began when lads from New Lanark and Lanark used their school caps – attached to long strings – to fight each other.
Some claim it relates to the Tolbooth when, as a jail, its prisoners were taken down to the Clyde to be whipped and scooried. Others claim it signifies the bells ringing to mark the start of spring and, perhaps the most popular, that it is used to chase away evil spirits.
Whatever the truth may be, for very many years Lanark Community Council has observed the tradition – inviting boys and girls to make decorated balls of paper, of course using the Gazette as a base, to continue the tradition.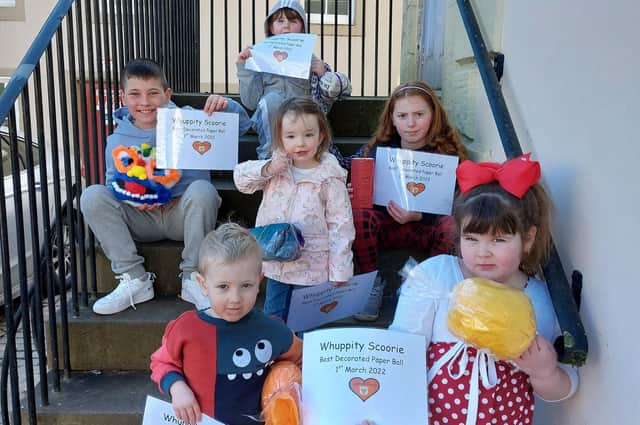 For the last three years, thanks to the pandemic and Covid restrictions, the event could only be held online.
However, on March 1, Whuppity Scoorie will return and it is hoped for a record turnout.
On Wednesday, from 5.30pm to 8.30pm, P6 and P7 pupils who attend Universal Connections created their decorated balls for the event.
And Margo Yates, who has helped organise the annual event for many years, hopes many more will also join in.
She said: "We're hoping for a huge turnout on Wednesday, March 1, and are inviting boys and girls of all ages to come along.
"After they run round St Nicholas Parish Church three times, there will be the usual community council scramble and we'll hand out chocolate coins to children who are too wee to take part, as well as the participants."
Of course, there is also an element of competition – Margo and her husband Tom have donated prizes of £20, £15 and £10 for the best decorated balls and certificates will also be presented to the winners in the Tolbooth after the event.
The community council's schools' drawing competition entries will also be displayed in the Tolbooth, with prizes awarded to the best.
People of all ages are being invited to join in the fun on March 1.
Participants should assemble at St Nicholas Church in the town at 5.45pm.
Margo added: "We're delighted Whuppity Scoorie will be back as normal this year – it's an ancient tradition which we want to keep alive."