Chest Heart & Stroke Scotland charity shops reopen in Giffnock and on Clarkston Road
Chest Heart & Stroke Scotland is re-opening two of its stores, one in Giffnock and one on Clarkston Road on Friday August 21.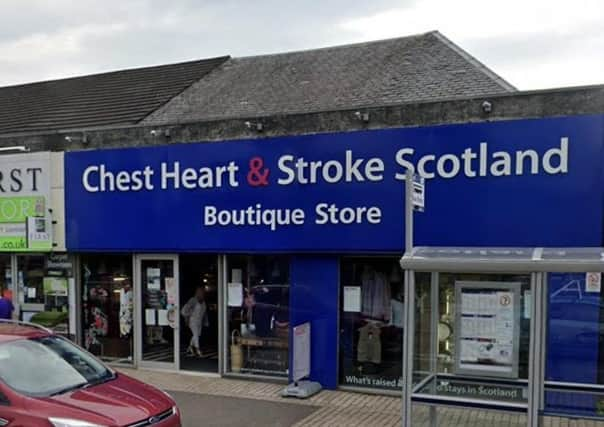 The stores will be open Monday – Saturday 11am – 4pm and will be accepting donations from tomorrow (Wednesday, August 12).
The charity is hoping that the local community will choose to donate stock as they open their doors.
With lockdown amounting to the charity losing £500,000 per month of income, following the closures of the charity's 45 shops and postponement of all fundraising events, Chest Heart & Stroke Scotland is urging supporters to help replenish the stores shelves with some much needed donations.
Customers will still find a unique shopping experience awaits them in the charity's shop where they guarantee hidden gems, one of kind labels and vintage finds but this now includes a new quarantining system for receiving and handling stock to ensure that customers, volunteers and staff are protected.
Carole Edmonds, Head of Retail at Chest Heart & Stroke Scotland, said: "We have significant safety measures in place to protect customers, volunteers and staff and have introduced a new system for receiving and handling all our donations", explained Carole Edmonds "All stock will be quarantined for 72 to reduce the risk of contamination and stock will be carefully dated with sorting areas in store to allow a safe processing system. We are installing cough screens, hand sanitising stations and limiting the amount of people allowed in the shop at anyone time. Mask will be provided for all staff and volunteers and we will be offering contactless payments and cash.
"Our Staff would be thrilled to start taking donations from 12th August. Once the shops are open, in order to manage the flow of the donations we would appreciate it if people could drop off between 10-11am or 4-5pm, or by phoning their local shop ahead of time to arrange a suitable drop off time where possible. We always appreciate our wonderful stock donations, but it is particularly important right now. By having a clear out and donating to our shops, you can be the difference between someone surviving or really living."
Chief Executive Jane-Claire Judson, Chest Heart & Stroke Scotland, said: "We've been unable to raise money through our shops for the past three months and because of this our lifeline services have been under serious pressure. That is why it's been so important for us to develop a robust reopening plan and why we're taking every precaution to ensure that our shops are clean and safe for customers, volunteers and staff.
"We are so looking forward to opening the shops again. They are a huge part of clan Chest Heart & Stroke Scotland and connect us to so many communities across Scotland. It has been extremely difficult having the shops closed and it has been a really tough situation for our dedicated staff and volunteers.
"As we navigate this new way of operating our shops, we are excited for the future. We can't wait to welcome back our amazing customers and meet new ones too.
"Many of us have been clearing out during lockdown and we want people to know that their donation means more to us than just a donation, it means that with your help, we can continue to support people across Scotland to do more than survive. Every donation will help someone to get from hospital to home – and really live again."