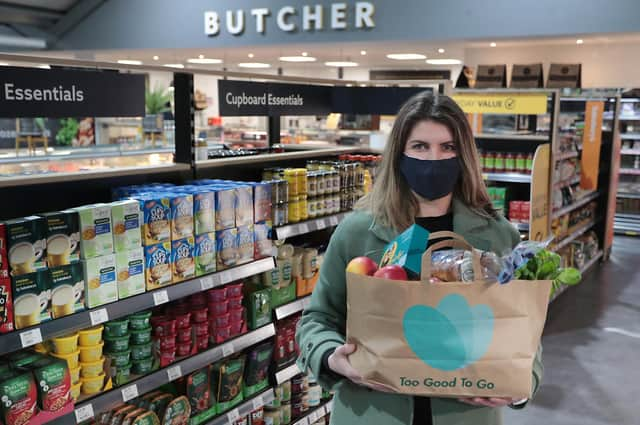 Grab a Too Good To Go bag packed full of goodies at Dobbies Sandyholm.
Too Good To Go lets people buy surplus food and drink from restaurants, grocery stores, pubs and producers to stop it from going to waste. Consumers simply download the free Too Good To Go app and search for nearby businesses with unsold produce.
They then purchase a 'Magic Bag' and collect it at an allotted time.
Sandyholm customers can purchase a Magic Bag in the foodhall, filled with fresh surplus food that would ordinarily go to waste. With an RRP of £12 to £14, the Magic Bags are just £3.99.
To find out more visit toogoodtogo.co.uk.​​​​​​​
Following updated guidance from the Scottish Government, garden centres across Clydesdale happily reopened on Monday.
While customers are being welcomed back, restaurant facilities will remain closed until April 26 – in line with the latest advice from the Scottish Government.
The safety of team members and customers remains a priority at all local garden centres.
Therefore, social distancing measures will be in operation and customers kindly asked to wear a mask, unless they have an exemption.
Gouldings Garden Centre at Rosebank will continue to provide take away food favourites until the restaurant opens on April 26.
However, the online shop for click and collect and delivery closed on Monday as staff welcomed customers back to the centre.
Garrion Bridges was ready for an influx of visitors on Monday too, with sanitising stations, contactless doors and protective screens at checkouts to help protect staff and customers.
The store will be operating to its traditional opening hours but the restaurants will be closed until later this month.
Staff at Dobbies' Sandyholm store were also looking forward to welcoming customers back on Monday.
Graeme Jenkins, the firm's CEO, said: "The safety of our team members and customers remains Dobbies' number one priority at Sandyholm and across Scotland.
"Spring is the time when people want to get back out into their gardens, and with proven health and well-being benefits, reopening our Scottish stores is a positive development."