However, the hard-working team at the garden centre are delighted they can now officially say that their grotto team is the best in the UK!
Garden Trade News (GTN) runs an annual competition to celebrate garden centres who go the extra mile to make customers Christmas extra special.
This year, GTN invited Gouldings to enter the competition and judges descended on the garden centre in December to get a taste of the Winter Wonderland.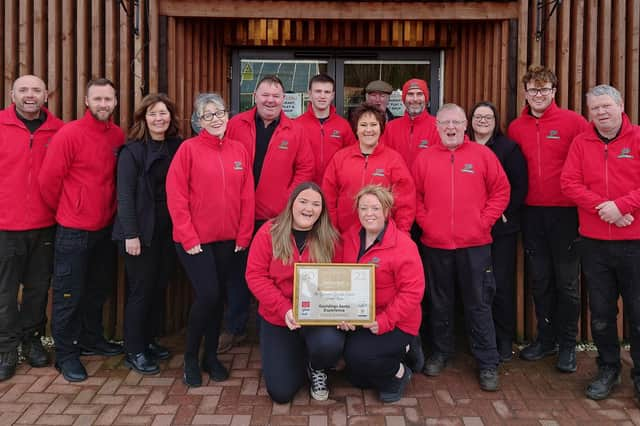 So impressed were they by the effort of the Gouldings team that they decided to reward the centre with its Greatest Grotto Team award.
Nichola Chalmers, office administrator, said: "We are absolutely delighted to have been awarded the Greatest Grotto Team in the UK award.
"Along with over 100 other Christmas attractions, our Winter Wonderland was visited by a team of judges in December and the feedback we received was fantastic.
"Our event has now run for 21 years and wouldn't have the success it has enjoyed without the hard work and dedication of our team.
"The effort made to provide a fantastic, memorable experience for our visitors is much appreciated by everyone who attends."
The award was presented by Garden Trade News when the Gouldings buyers team attended the Spring Fair in Birmingham recently, to purchase goods for the coming season.
Gouldings launched its Winter Wonderland attraction in December 2002. In 2017, the garden centre purchased Valley View directly opposite Gouldngs and for the last three years, the Christmas extravaganza has been staged there.
It includes a special winter trail where boys and girls can enjoy music, meet Mrs Claus and visit the toy workshop before visiting Santa in his grotto. They are then treated to a present from the toy shop before completing the trail which also includes a photo booth and funfair rides, ending with an incredible virtual reality sleigh ride.
Nichola added: "It's great fun for wee ones but the staff here also love it – it's what Christmas is all about, wee ones enjoying themselves."