Council objects to the planned removal of South Lanarkshire payphones
South Lanarkshire Council is set to oppose the removal of 23 payphones across the local authority area by BT.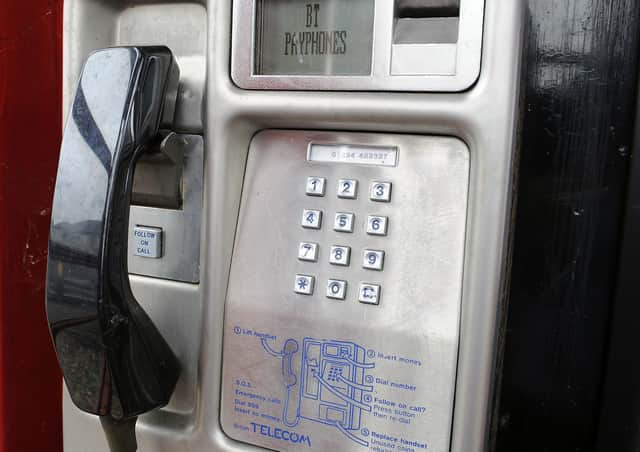 BT wants to remove more than two dozen payphones across South Lanarkshire
The telecoms giant has put forward proposals to remove a total of 26 phone boxes across the region, blaming a lack of usage.
Clydesdale would be worst affected by the proposals, with 16 phone boxes facing removal – all of which were saved last year after Clydesdale North councillor Catherine McClymont, South Scotland list MSP Claudia Beamish and Clydesdale MP David Mundell raised objections.
Councillor McClymont has again objected to payphones being removed in Forth and Lanark while fellow Clydesdale North councillor Richard Lockhart has also objected to payphones being taken away in Carnwath, Carstairs, Carstairs Junction and Newbigging.
Symington and Abington could lose their traditional red phone boxes but South Lanarkshire Council is set to object to their removal from the network.
A further six could be set to go in East Kilbride and Avondale – five of which were saved last year – while one each in Hamilton, Blantyre, Rutherglen and Cambuslang are also facing closure.
A number of payphones that BT propose to remove are in areas with a higher than average percentage of the population aged over 75, areas with reduced mobile coverage, areas of social deprivation or in towns with only one payphone.
BT says that the use of public payphones has reduced by 90 per cent over the last decade and the need for public phones for emergency calls is also reducing substantially.
The council's planning committee agreed to object to most of the proposals from BT, but councillors did agree to the removal of payphones at Main Street, Newbigging; Westwood Hill, East Kilbride; and Dukes Road, Cambuslang.
A first notification of the council's objections has been published ahead of a final notification which must be submitted by November 2.
The full list of phone boxes South Lanarkshire Council will object to the removal of across the Clydesdale are as follows:
Carlisle Road, Crawford; Carlisle Road, Abington; Gateside Road, Crawfordjohn; Edinburgh Road, Dolphinton; Dumfries Road, Elvanfoot; Main Street, Symington; Millands Road, Thankerton; Main Street, Forth; Smyllum Park, Lanark; Forrest Lane, Carstairs; adjacent to Walston UAX, Carnwath; St Charles Avenue, Carstairs Junction; Crossford Hall, Crossford; Beechgrove Street, Rigside; Abbeygreen Road, Lesmahagow.