Fears over job losses despite Chancellor's support package for Scotland
UK Chancellor Rishi Sunak has outlined support the government will provide for Scottish businesses and workers affected by coronavirus.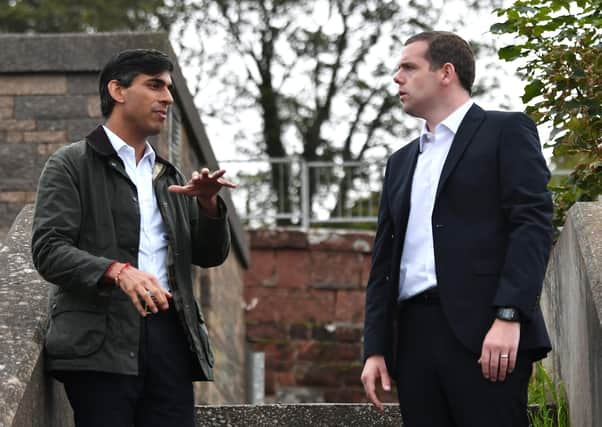 While speaking in Parliament today (Thursday), Mr Sunak explained that the package includes a new Jobs Support Scheme to support millions of people who are returning to work, extended support for the self-employed, a 15 per cent VAT cut for hospitality and tourism and help for businesses repaying government loans.
Mr Sunak said: "When I visited Scotland last month I saw first-hand how UK Government schemes have protected jobs and businesses in the face of this crisis.
"And I was always clear that I wouldn't hesitate to act in a creative and effective way to provide even more support should it be needed.
"With the resurgence of the virus and the restrictions imposed as a result now is the right time to provide the people of Scotland with the extra help they need."
Alister Jack, the secretary of state for Scotland, added: "The package announced by the Chancellor today is great news for people and businesses in Scotland.
"It will help keep people in jobs, extend crucial support to businesses and giving them the certainty they need. It will give businesses and self-employed people the support they need to get through this difficult situation. It comes on top of an extensive package of UK Government support throughout the pandemic, and is very welcome.
"The UK Government has put in place unprecedented measures to support all parts of the country during this pandemic, clearly showing how Scotland benefits from being part of a strong United Kingdom."
During the pandemic the UK Government has spent billions on supporting Scottish businesses and its devolved government, which has received an additional £6.5 billion to cope with the pressures arising from the pandemic.
Westminster also funds the furlough scheme and almost half a million people remain on furlough – in July this figure was around double that.
More than 150,000 self-employed people in Scotland and 65,000 businesses have also received grants or loans.
Beginning in November, the new six-month Job Support Scheme will protect jobs at companies who are facing reduced demand due to the pandemic, by contributing to the wages of people who are working fewer hours than normal at a rate of one third of their equivalent salary for the time they are unable to work. This is open to businesses across the UK even if they have not previously furloughed staff.
Further grants will be given to self-employed people, with an initial lump sum covering three months' worth of profits for the period from November to the end of January next year. This is worth 20 per cent of average monthly profits, up to a total of £1,875.
An additional second grant, which may be adjusted to respond to changing circumstances, will be available for self-employed individuals to cover the period from February 2021 to the end of April.
The government has already given more than £13 billion to 2.6 million self-employed people.
The temporary 15 per cent VAT cut for the tourism and hospitality sectors has now been extended until the end of March 2021, to support parts of the economy which have been hit particularly hard by the effects of the pandemic. Half a million companies which have deferred their VAT bills will also be given the option to pay their debt in smaller instalments instead of a lump sum.
Self-assessment taxpayers will be able to benefit from an additional 12-month extension from HMRC.
More than a million businesses took out a Bounce Back Loan from the government and measures have been taken to reduce their repayment burden, including extending repayment length from six years to ten. Applications for such loans have also been extended until the end of November, allowing more companies to request support.
However, some feel the measures do not go far enough. Liberal Democrat Treasury spokesperson and Edinburgh West MP Christine Jardine said: "The Chancellor's statement is welcome in as much as it finally extends employment support as Liberal Democrats have called for, but it is late and falls short of what people need.
"To announce new measures only a month before the furlough scheme ends when businesses and ourselves have been calling for it for months is unacceptable – particularly when the budget has also been cancelled.
"We need to know what the Chancellor is going to do to help the three million people still excluded from any support, how he proposes to create the jobs and training we need to avoid mass unemployment and where are the incentives for investment in our industries – especially the green economy.
"And finally, when is this Government going to respect the devolution settlement and give the Scottish, Welsh and Northern Irish administrations the guidance he removed by cancelling the budget so that they can make their own plans?"
The Scottish Trade Union Congress has also warned further job losses are inevitable as the Chancellor's response has simply been too slow in coming.
STUC General Secretary Roz Foyer said: "While the UK Government's dithering and delay has cost thousands of jobs, today's announcement is better late than never. Unions have continuously warned against the furlough cliff edge and we have no doubt that the TUC will have driven the hardest possible bargain.
"However, this announcement still leaves real dangers in store for our economy. In areas like the arts, aviation, and hospitality, where 40 per cent are currently on furlough, we are likely to see massive job losses.
"The announcement is only worth a fraction of the furlough scheme. In parts of the economy, there is a real risk of rogue employers firing and rehiring staff on poorer terms and conditions. The trade union movement will vigorously guard against this and hold companies to account. Now more than ever workers who are not in a union should join one.
"For many eligible workers, four fifths of their wage will be a bitter pill to swallow after a decade long squeeze on living standards. As a bare minimum, we call on employers and Government to ensure this is topped up to a real living wage.
"It is welcome that large employers will have to show covid-detriment in order to claim. While we await to see the detail, it appears there may be some controls on executive profiteering. It would be a travesty if companies claimed this while paying out dividends to shareholder.
"The Chancellor talked about viable jobs, but we need clarity on this. The truth is that, while covid-19 restrictions are in place, we can't tell what's viable. It is well within the Chancellor's power to power to create good, viable jobs by investing in clean infrastructure, retrofitting, green investment, skills and public services. Yet there was nothing in this statement about any of these measures. It is clear that we will need to see further measures from the Chancellor in the coming months."