Grant lands inspirational youth group new headquarters
Motherwell-based charity, Reeltime Music, is set to raise the roof in brand-new premises, thanks to support from steel firm UKSE.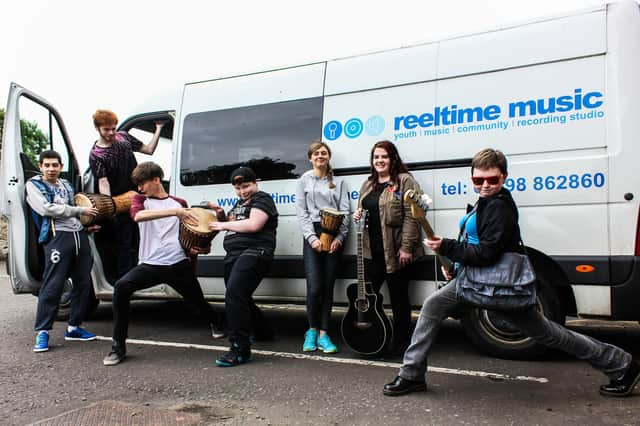 The community group, which aims to inspire young people through creative projects and workshops, has secured a new unit within Motherwell town centre.
Reeltime Music, which has operated in the area for over 23 years, received £2,500 from UKSE towards securing the new premises. The unit will house two purpose-built workshop and music rehearsal rooms, a recording studio, and performance and small conference space.
UKSE's funding allowed Reeltime to successfully bid for a grant worth more than £1.17 million from the Scottish Government, allowing them to make the move and transform the unit into a specialist facility.
The charity, which works with around 1,000 young people each year, aims to create positive changes for young people in deprived locations, providing them with support and routes into education and the workplace.Throughout lockdown, Reeltime has provided one to one sessions to its young people virtually, including podcasts, live music performances and variety of creative programmes online.
UKSE, a subsidiary of TATA Steel, has been a long-standing supporter of Reeltime Music, previously assisting them with funding in 2016 and 2019.
Ryan Currie, project manager at Reeltime Music said: "We are very grateful for all the help UKSE have given us. They saw potential in Reeltime years ago, and their continued support really means so much."
"Our programme is designed to provide young people who have faced various barriers with a place where they can be creative, and in turn, improve their self-esteem and confidence. Over the last 23 years, we've worked with 23,000 young people and without the support from the likes of UKSE, we might not have been able to make such a big impact. We're very much looking forward to making the move when restrictions allow."
Scott Webb, area manager at UKSE said: "The work Reeltime carry out is really invaluable to young people around Motherwell. It's fantastic to see them expand into bigger premises and be able to increase the services they can offer."​​​​​​​