Mammoth charity effort of Bellshill based firm raises £44k for Glasgow Children's Hospital
A team of enthusiastic walkers from Advance Construction Group Scotland in Bellshill have raised a staggering £44,962 for Glasgow Children's Hospital Charity having completed the Three Peaks Challenge in under 24 hours.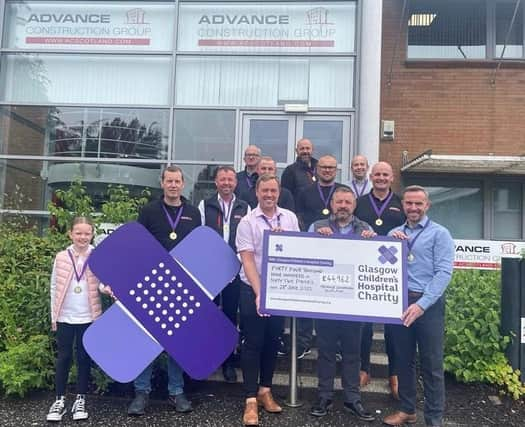 They climbed England's tallest mountain, Scafell Pike at 3,209 ft, Wales's toughest
challenge, Snowdon, at 3,560 ft and the towering Ben Nevis in Scotland set at a staggering 4,409ft above sea level.
The group some of whom hadn't climbed a Munro when they started training, raised £22,481 through sponsorship which was matched by Advance Construction which is based in Strathclyde Business Park.
Michael Toolan, Technical Manager with Advance Construction Group Scotland and one of the team organisers, said, "It was such a fantastic experience, and everyone loved it.
"It was extremely challenging, more so trying to navigate the traffic and ensure we got to each mountain on time, but we were never in any doubt we could achieve our goal as we knew it was to help support a very worthy charity. We couldn't let down all those who had generously donated."
William McGowan, Head of Partnerships and Business Development at Glasgow's Children's Hospital Charity presented the team with individual medals and said, "The team at Advance Construction Scotland are steadfast supporters of the charity and we are incredibly grateful to the fearless fundraisers who took on this great challenge."
"A huge thank you to Advance Construction Scotland for matching the donations raised by the team.
"The money raised will help children from across Scotland who are treated in the children's hospital in Glasgow, helping to fund life changing equipment, support services and research projects."
Advance Construction is a legacy partner of Glasgow Children's Hospital Charity and to-date has raised £97,012 including this latest donation.
Formerly known as Yorkhill Children's Charity, Glasgow Children's Hospital Charity has been supporting children since 2001 and have invested more than £41 million in charitable projects.