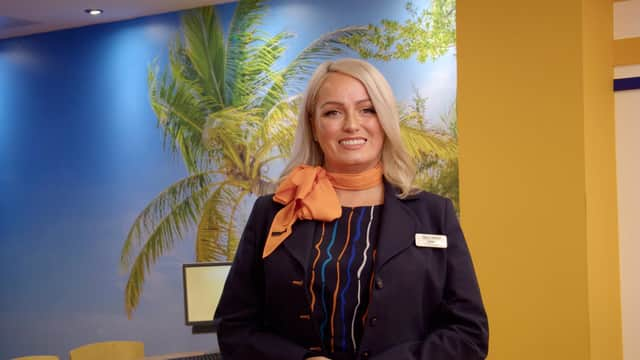 Yet one of the four real-life staff showcased in the advert is in fact from Cumbernauld's very own branch of the travel chain.
Travel agent Evelyn McEvoy, never dreamt that becoming a TV star would be part of her role as senior travel consultant at Hays Travel in Cumbernauld.
The 39-year-old stars in the company's latest television commercial which was aired for the first time on ITV on Boxing Day to a potential audience of 20 million viewers.
Evelyn said: "I had such an amazing time on filming day, feeling nervous but excited! The Washington store where we filmed in the north east of England was bright and welcoming and everyone who was there was so friendly. Having never done any filming before, I think we were all a little apprehensive but soon we were all having fun and 'performing'!
"Since the ad has aired, I have had an overwhelming response from friends and family, receiving lots of private mail on social media saying I saw you on TV!"
Hays Travel COO, Jonathon Woodall-Johnston, said: "I love that our real-life colleagues get to star in our TV commercials and other advertising. We've always included our people in our marketing materials but the TV ad feels particularly exciting! All four of the family who starred in the advert seemed to be real naturals, but I'm hoping we won't be losing them to a life in showbiz quite yet!"