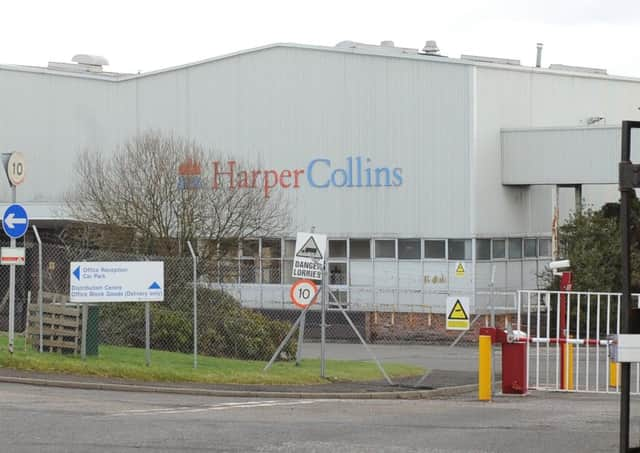 Harper Collins, Bishopbriggs 25.2.11 Picture by Jamie Forbes
This comes after the latest plea from a worker at Harper Collins distribution site at Bishopbriggs, which has remained open during the current lockdown.
The worker, who does not want to be named, got in touch with the Herald after we revealed the book distribution warehouse was to 
remain open.
He said: "Please help us. I have been an employee of Harper Collins for many years. My employers' statements regarding social distancing and hygiene are a fallacy!
"True, we have hand sanitisers available but the issue of social distancing is huge, and cannot be done in such a busy warehouse with so many people there at the same time, where shifts overlap."
He described the atmosphere on the warehouse floor as "toxic" and said workers who voiced concerns had been told if they did not come in to work, they would not be paid.
He said: "We feel our lives are being put in danger so that the company are able to put books in shops."
Harper Collins have refuted the claims of the employee. Their spokesperson said: "We do not accept the allegations presented are a fair representation of current working practices.
"We are following all government guidance regarding on site health and well-being. We have introduced temperature testing at the gatehouse for all coming onto the site. We have implemented enhanced hygiene regimes, have significantly reduced shift sizes and staffing levels, and ensured that none of our staff are required to work within two metres of each other.
"We have consistently had approximately 100 HarperCollins people operating on our 750,000sq ft site across two separate warehouses.
"We have also introduced a daily bonus for staff. All unable to work due to circumstances related to coronavirus are being paid in full.
"As previously stated, we have consulted with the UK and Scottish governments and our local MP who have said that as a distributor of books and educational resources and with the appropriate health and wellbeing measures in place, we should continue to operate from our warehouse.
"Throughout this period we have worked closely and consulted with the union who have been supportive of the measures we have implemented."
She added that the person making the complaint should contact their union rep or manager in order for them to "resolve things satisfactorily."
East Dunbartonshire Council bosss Thomas Glen said: "Where employees or members of the public have concerns regarding a business remaining open, or ensuring appropriate social distancing within a business premises, our Trading Standards officers are on hand to speak to them and discuss the legal requirements."