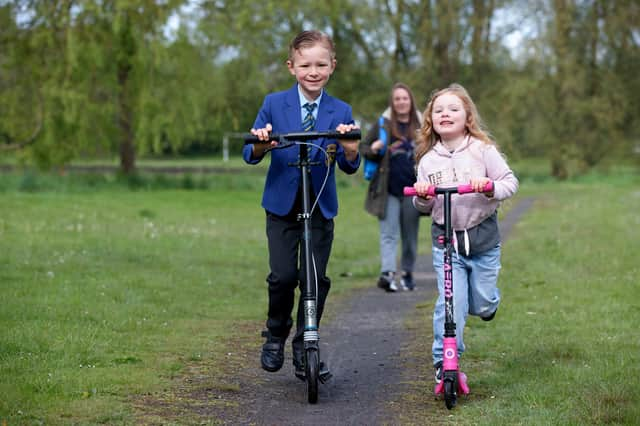 Dylan and Rebecca Campbell love getting out with mum Caroline (Photo by Craig Williamson / SNS Group)
Paths for All has announced Dylan and Rebecca Campbell as the "Spring Path Days" campaign winner after being put forward by their mum Caroline Moriatry.
Spring Path Days encouraged young children and families to reconnect with nature, challenging participants to share story or photograph of how they spent time outdoors.
Dylan (6) won a £500 voucher will be used on den building kits to help promote Oxgang Primary s outdoor learning programme, while he and Rebecca also won a den building kit for their own adventures.
Caroline Moriarty said: "As a family we try to do something active every day and the kids enjoy going on 'adventure walks'.
"A few months ago, we were given litter-pickers by the local community centre so when we go on walks Dylan and Rebecca collect rubbish. It's taught them to respect the environment.
"Oxgang Primary is also looking to get litter-pickers so that more children can join in - if you give them the tools, they will do amazing things!"
Graham Bowman, acting depute head Teacher at Oxgang Primary, said: "It was lovely to see the children react so positively to the news – Dylan received a special mention in the whole school digital assembly and a big round of applause.
"We are all delighted for Dylan and look forward to testing out the den building kits as soon as they arrive at the school – we have a few hundred excited children."
Path for All's campaigns and events showcase how walking can bring significant benefits to the nation's health and environment.
Rona Gibb, senior manager at Paths for All said: "Time in nature is good for everyone. It helps us get moving and feel good in body and mind. Being active outdoors relieves stress and can help the whole family have some fun together.
"Dylan and Rebecca were deserving winners. They told us about spotting deer, identifying leaves, cycling along canal paths, walks in the woods and in parks.
"This was as well as the amazing work litter-picking on their local paths. We could see they had a lot of fun, enjoying nature as well as helping to enhance the environment."