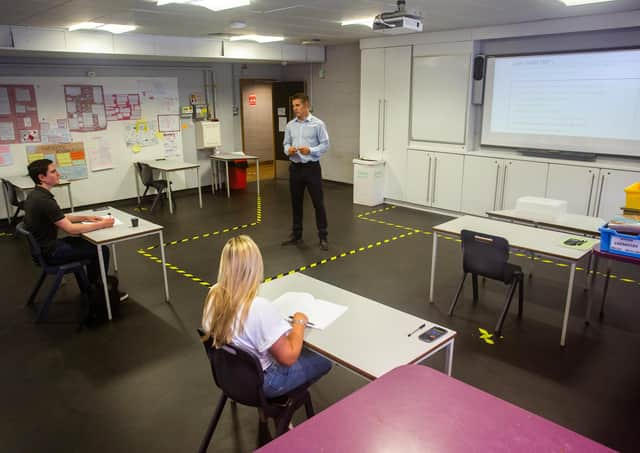 £20m would be allocated to help cover the cost of additional health measures, transport and other essentials incurred by councils. Photo: SWNS
In an address to the Scottish Parliament, education secretary John Swinney said also announced £20m would be allocated to help cover the cost of additional health measures, transport and other essentials incurred by councils, while £3m will be invested in youth work.
The Education Recovery Group is preparing guidance for schools and councils as they prepare for the new term, which starts in August, and the Scottish Government will announce its final decision on whether schools are to reopen on Thursday, July 30.
Mr Swinney said: "I want to express my appreciation to parents and carers for their support to young people, to the teaching and wider workforce across Scotland for their efforts to sustain education and to children and young people for their resilience during this difficult period.
"All of the school workforce have a crucial role to play in our education recovery mission, and it is vital that they are supported to do so. The ring-fenced £50 million funding to recruit more teachers and support staff will enable schools to intensify support for children and young people as they return to full time face-to-face education and help to mitigate for learning loss. The final numbers will be dependent on the precise mix of staff recruited and the needs of children and young people.
"The £20 million funding recognises the extremely valuable work of our school cleaners, facilities management and school transport staff, who are essential to the successful delivery of education in Scotland and to whom I want to pay tribute today.
"I also mentioned in my statement on the 23 June that we would be seeking the assistance of the youth work sector in supporting those families and communities who need it most.
"The sector will receive £3 million of investment because it has continued to support and engage children and young people throughout the pandemic, including using digital technology and outreach work to mitigate the impact of Covid-19 on children and young people's mental health, learning and development.
"While this funding should provide local authorities with the assurance they require to progress plans immediately, we will continue to work with COSLA to understand the additional costs associated with the school re-opening guidance that each local authority is facing, and how these can be addressed alongside any loss of learning.
"We are currently developing guidance, with our partners in the ERG, on health mitigations and precautions that will be in place to allow schools to fully re-open in August and a final decision on school re-opening will be announced on 30 July"
The news was welcomed by teachers' unions. Larry Flanagan, general secretary of the Educational Institute of Scotland, said: "The confirmation of ring-fenced funding to support the recruitment of an additional 850 teachers is a welcome step in the support required for educational recovery in schools across Scotland.
"It is essential that local authorities make use of this funding to recruit more teachers from all those currently available and seeking work – including newly qualified teachers, recently qualified teachers, and teachers on supply and temporary contracts. The EIS would urge the Scottish Government to clarify that this additional funding is open to employ qualified teachers from all of these categories.
"The EIS is clear that more will be needed to ensure that all young people receive the support they require to recover from the impact of the school shutdown and, as well as urging the Scottish Government to consider additional funding, we would encourage local authorities to use some of the flexibility open to them around attainment challenge funding and the pre-allocated monies for the now suspended expansion of pre-5 entitlement to further boost school staffing .
"Being away from the school environment for such a prolonged period will have had a detrimental impact on many young people's education. Supporting recovery from this traumatic experience must be the top priority for all in Scottish education.
"Clearly, with less than three weeks until schools are set to re-open, it is vital that local authorities act quickly to ensure that the promised additional teachers and support staff are recruited prior to the start of term.
"It also remains essential that the process of re-opening schools is managed safely, with updated risk assessments to be carried out and all necessary mitigations – such as enhanced cleaning regimens, adequate ventilation and facilities for regular hand-washing – to be in place in all schools prior to them re-opening."
Lorraine Thomson, who chairs UNISON Scotland's Education Issues Group, added: "We welcome any new funding for education. Re-opening schools is crucial in getting our economy moving again and helping our children get back to some kind of normality.
"In particular, we welcome John Swinney's announcement of more money for support staff and his recognition of the vital role of cleaning and facilities management staff play in creating and maintaining a safe environment for the delivery of education.
"This is something that UNISON have been arguing for in our regular discussions with the Scottish government and others.
"Without extra support for cleaners, caterers, classroom assistants, janitors, technicians and other education staff who are on the front line fighting coronavirus, our schools will not be able to open in a way that keeps us all safe. The timescale to prepare schools for opening is extremely tight. UNISON will continue to work with the government to ensure schools are safe for everyone."
UNISON's head of local government, Johanna Baxter, added: "This funding announcement is a drop in the ocean for local government services. UNISON has continually highlighted that there is more than a £1 billion funding gap for local government in Scotland. And COLSA has repeatedly given the Scottish government evidence of this, through their cost collection exercises.
"While UNISON welcome any extra funding for education we need a serious discussion about the long term sustainability of local government services in Scotland."