Bill Dempsey: a tribute
Last week, one of Cumbernauld's brightest flames was extinguished when William Dempsey died peacefully in Monklands Hospital surrounded by the love of his family and many friends. He was 78 years old.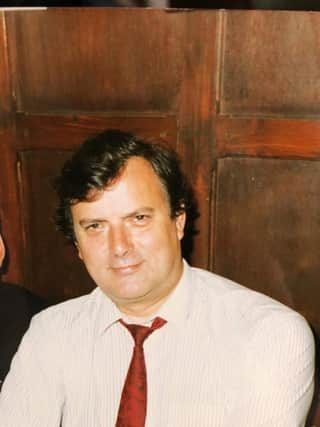 'Bill' as he was widely known, was born and raised in Kilsyth, growing up in a large, loving family with his head firmly in the clouds.
As a child he possessed a creative, mischievous spirit and a sense of wonderment that remained with him his entire life.
A gifted artist and talented student of the piano, William was also blessed with an incredible singing voice.
It was while attending St. Modan's High School in Stirling, William met another talented singer, Ann Higgins from the Stirlingshire village of Fallin.
They married in 1964 and moved to Kildrum raising a family there, daughter Clare and son, Mark.
William and Ann toured the world together as part of the Scottish Opera Chorus.
William rubbed shoulders with the most famous opera singers appearing in countless operas across the globe, a particular highlight being a performance at the glitzy Hollywood Bowl in Los Angeles in the mid '70s.
His distinct baritone voice and his passion for opera had been reinforced in his work with the Cumbernauld Light Opera Society.
He was also a huge contributor to the Cumbernauld Theatre, playing the piano, performing and helping design the sets for numerous plays and musicals.
William had studied Architectural Drawing at Glasgow School of Art, but left the course to accept a job with the Cumbernauld Development Corporation in 1964, where he worked as a Senior Architectural Assistant for almost 40 years.
Living and working in Cumbernauld until his retirement in 1998, William's contributions in the early days of Cumbernauld New Town's construction were numerous and significant resulting in a much-improved environment for the entire community.
William remained stubbornly principled into his later years.
He was an active member of Sacred Heart Church, donating both time and financial aid to various charitable causes.
A private man, he viewed helping others not as something to celebrate, but as a moral duty that was owed to the people around us.
A proud community activist, William was chairman of the Kildrum Community Council and was always seeking to improve his local area.
He led a campaign to save the Red Comyn, his local pub and the Cumbernauld Theatre.
He believed in saving local spaces and recognised that communities cannot thrive without hubs in which people can socialise.
William's legacy is one of helping others.
He always put the community before the individual, believed in the transformative power of the Arts and most importantly, he celebrated the inherent good at the root of every person he met. He will be sorely missed.
William's funeral will be held at Sacred Heart Cumbernauld on Thursday, August 13 which will be restricted due to the Coronavirus outbreak, Thereafter to Kilsyth Cemetery, walking from Manse Road around 12.15pm.