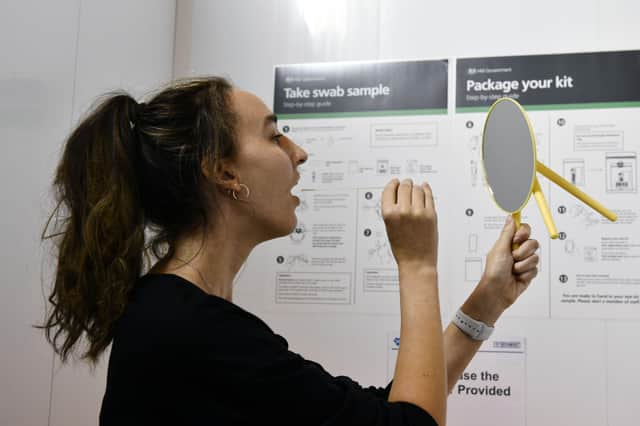 The hub, which is located outside Fleming House, has been operational for several days, admitting walk-in patients - and is one of 22 such centres now set up across Scotland
It will operate from 8am to 9pm seven days a week and the process - which will be self-administered with staff standing by- will take just a few minutes .
It is the first time that mass testing has been undertaken within the town itself and is being hailed as the latest weapon in the fight against the virus within the Tier Four area catered to by NHS Lanarkshire.
Its director of public health Gabe Docherty said: "The public health department continues to contact-trace positive cases and clusters in our community and this addition to the UK testing provision is welcome.
"Please do not hesitate if you have symptoms. It's critical that you go for a test and this walk-in centre is a very welcome addition to our testing capacity."
UK Government minister for Scotland Iain Stewart said that it was vital that sites like this were stationed in locations like Cumbernauld.
He added: "Testing is vital, helping to manage local outbreaks and protecting people's livelihoods.
"The UK Government is providing the bulk of Covid testing in Scotland, and this new walk-through centre is just the latest in our extensive testing network.
"We are pleased to be working with local and commercial partners. These sites are not possible without the hard work of many people.
"I would like to thank everyone involved for their incredible efforts for the good of the country at this difficult time."
Health Minister Lord Bethell said:"New walk-in sites like this one makes it even easier to get a test no matter where you live.
"If you have symptoms of coronavirus, I urge you to book a test today and follow the advice of NHS Test and Protect if you are contacted to protect others and stop the spread of the virus."
However it should be stressed that there are strict conditions underpinning visits test to the centre.
Tests must be booked in advance at: www.nhsinform.scot/test-and-protect or by calling 0800 028 2816.
People should only book at test if they have coronavirus symptoms or have been told to seek a test by a clinician or an NHS tracer.
People travelling to and from the test centre must NOT use taxis or public transport.
They should wear a face covering while travelling to and from the test centre, and while in the centre itself.