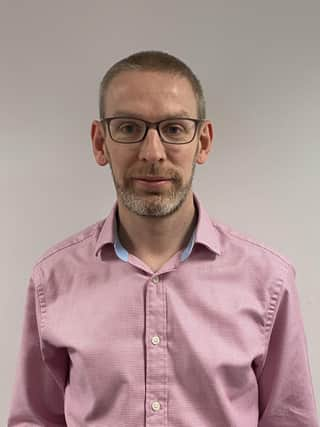 Ross McGuffie, NHS Lanarkshire chief officer for health and social care (pictured) praised the efforts made by volunteers while addressing the council's Adult Health and Social Care committee
More than 1000 volunteers from 81 community organisations have made more than 60,000 befriending and wellbeing calls, more than 50,000 support shopping trips, delivered more than 14,000 meals and 1,300 prescription deliveries, and delivered support more than 20,000 times in various activities including dog walking. In total, North Lanarkshire has benefited by almost 15,000 hours of volunteer hours.
Welcoming the report, convener Councillor Tommy Morgan expressed his "recognition and admiration of the work that was given and the help that was given by not just furloughed people but people who volunteered. It was a tremendous effort in bringing society together.
"We're not out of it yet but it's amazing what people can rise to with the challenge facing us and their consideration for others."
The report also highlighted that up to August 5, there had been 2,785 positive cases of coronavirus within the NHS Lanarkshire area, including 11 inpatients with confirmed Coid-19. The coronavirus death toll stands at 351 hospital deaths and 245 care home deaths.
Councillor Ann Weir asked how many people had died in care homes the previous year. "From working in care homes I know there's a lot of deaths," she added.
Mr McGuffie said "We saw a definite spike in terms of additional deaths over and above what we were expecting. You can see that very clearly over the months of May and June particularly so you can clearly see there have been excess deaths in comparison to the seasonal norm."
It was stressed that more than 20,000 care home workers were tested for the virus since early June.