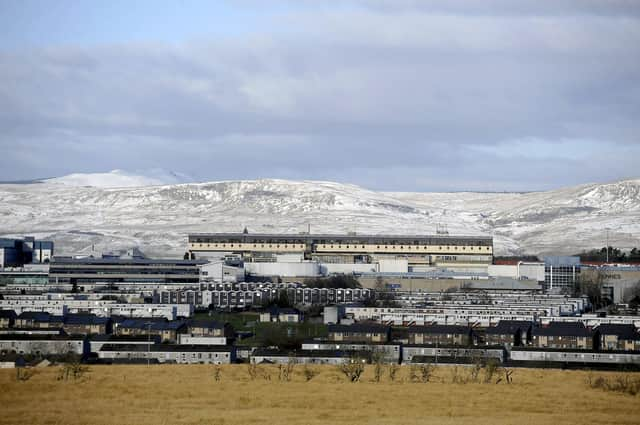 The event is taking place this week and there can be fewer better examples of those involved than the army of helpers providing a lifeline during the Coronavirus crisis than Cumbernauld Resilience.
More than 100 people are involved who mobilised at speed as lockdown came into force.
And together they have prepared and delivered more than 2000 food parcels, containing almost 45,000 meals, to local residents affected by the COVID-19 restrictions
Working alongside the football team Cumbernauld Colts, they have also arranged for more than 350 prescriptions to be picked up for people who are self-isolating.
These personal testimonies of how it feels to be involved were provided by the group itself.
Mother and Daughter Jacinta and Nicole Russell work as part of the packing team preparing food parcels: "This has been an amazing time for us to spend time together helping others within our area under such exceptional circumstances. Working with old and meeting new friends with the same community spirit will remain with us for ever".
Student Nurse Erin Docherty delivers food parcels with her mum Sharon: "We decided to volunteer as I thought it'd be a great thing for me and my mum to do together around my busy shifts as a student nurse and we have absolutely loved getting involved and being a part of this community. Thanks for giving us the opportunity!
"The Resilience Group gave me a huge donation for the ward in Forth Valley I have been working in as a student nurse and I am so grateful as it has really made a difference to all my patients who aren't able to get snacks and drinks in from their family and friends during this time".
Izzy Conway is part of the team that manages the requests as they come in to the hotline phone: "What motivates me to volunteer is to give a little back - to help those who need help, to make someone smile and ease their burden just a little. You get so much more out of volunteering than you put in, it's so rewarding and just makes you feel good. Every little helps as they say! It's like being part of a big family, you start as strangers and leave as friends."
Karen Dougan delivers prescriptions for the group: "I have lived in Cumbernauld my whole life and when this group was formed at the start of lockdown I felt the need to help the elderly and vulnerable of our community in a small way. I am so proud to have been part of CRG".
The Berry family have all done their bit to help their neighbours during this crisis: "Cumbernauld Resilience have created something amazing from a desire to help local people at a time of crisis. Our family have all done a little to help the massive efforts of Team Resilience! So proud to help and have made some lovely new friends along the way."
Karen McGoldrick helps prepare the parcels as part of the packing team: "I love being part of this great team! It's been so nice to meet new friends and we're doing a great job helping the people of Cumbernauld."
The Morrison family have all chipped in to deliver parcels and help highlight the Group to those that might need support: "As a family we felt it was important to help others in our community and are so proud to be a small group in such a huge team of volunteers. Being part of Team Resilience has helped us through these strange times whilst helping others".
The Trainer Family - Noah 9, Lily, 7, Jacob 4, mum and dad "We wanted to assist as we saw great value in the work of CRG and wished to encourage our children to volunteer to help others, now and in the future".
Isobel McLeod who volunteers with the packing team: "I'm loving the work we do. It's really hard going but it's so worth it and Team Resilience are great fun to work with.
Also with the packing team, Marie Connell: "I found out about the great work Cumbernauld Resilience were doing through my friend Fiona who is also a volunteer. I had just been placed on Furlough and wanted to help support our local community. I am very proud to be a part of Team Resilience and have made many new friends while working here. There is a great team spirit & most importantly we are helping & supporting people through this crisis".
Jacqueline Bryce: 'I've helped at weekends to deliver food parcels and hand out leaflets for Cumbernauld Resilience. It's so well organised and run, it's been a privilege to be able to help out in a small way. It doesn't take up much of my time, I'm still working, but it's very rewarding and shows what great community spirit is out there. There are lots of different ways to help out. I can highly recommend taking part".
Lorna Malcom: "My daughter & I really enjoy delivering parcels to the elderly & vulnerable, just seeing their smiling faces. They are so grateful & thankful. It's very rewarding helping others through this pandemic. Cumbernauld resilience are an amazing group and we are so proud to be a part of it all".
Jillian Proctor, Mark McGonnell, Jack Cairy, James McGonnell, Rachel Proctor & Michelle Proctor "Our family wanted to help the community. Between us we have done many parcel drop offs, posted leaflets & shared word of the resilience team. We are very proud to be part of this group and thank everyone involved. It is great to meet so many hardworking caring people."
Elizabeth and John McKay deliver food parcels for the Group: "We are both retired so have plenty of time on our hands. Delivering much needed food to the Cumbernaud community is a privilege and a pleasure".
Aside from delivering parcels and unloading stock for Cumbernauld Resilience, Stephen Oliver has been busy doing odd jobs for elderly neighbours and other local residents since lockdown began: "I am proud to have been a part of this group since lockdown started. I do everything from odd jobs to unloading deliveries and delivering food to those in need. It's great to be part of such an amazing team of people that perform small miracles".
Declan Lewis and mum Claire have helped advertise the Group to those in need by delivering leaflets: "I saw the CRG on Facebook and wanted to help by delivering leaflets so that people that are self-isolating know that support is available."
Marianne Johnstone: "I saw what a fantastic job the Cumbernauld Resilience Group was doing, helping those in need and building community spirit. This great bunch of people inspired me to get involved and help those who need it most."