Dr Neil Gibson, Consultant in Paediatric Respiratory Medicine, has received a lifetime achievement award from the British Paediatric Respiratory Society, which aims to improve the health of children with respiratory problems, for his work over the years.
As well as playing a key role in setting up NHS Greater Glasgow and Clyde's service for the investigation of sleep problems in children, with a focus on breathing, Dr Gibson's involvement in standard setting and guidelines and dedication to teaching and training has also been recognised by the BPRS.
And while he was honoured to receive the award, Dr Gibson was quick to praise the team effort which has led to Glasgow becoming one of the leading children's respiratory units in the UK.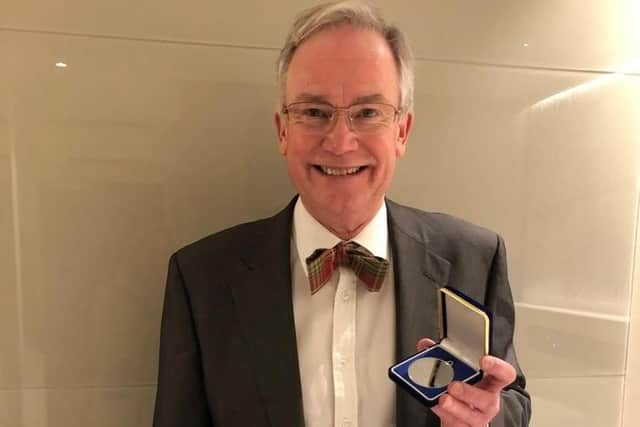 He said: "I'm pleased to have been recognised with this award, but it's not just been me that should be recognised.
"There is a whole team behind this and I was given so much support from people across the hospital, support from the Glasgow Children's Hospital Charity, support from younger colleagues who were really enthusiastic and we built it up to one of the biggest services from that.
"Very early in my consultant career, there was a funded scheme for staff to get the chance to go and learn and do things that would help develop services. I was given a grant to go across to Stanford University in the USA for a few weeks, to learn about sleep medicine in children, as this was an area where almost nobody was focusing on in the UK.
"I was able to go and do a course there, visit two of the top units, and then bring that back. This helped us build the sleep investigation unit in Glasgow, we were one of the first in the UK to do that for children. I was obviously interested and had the drive to do it, but I was given the chance by Yorkhill at the time, to go and bring back this knowledge.
"The Glasgow Children's Hospital Charity were also fantastic in helping us purchase the equipment for the monitoring of the children, which allowed us to develop the sleep lab.
"Sleep is really important, it is getting highlighted more now, but if you don't sleep well it has all sorts of bad effects on your health. And children, particularly with breathing problems, can have problems with their sleep and when they have a bad sleep it has a knock on effect on how they function during the day and on their whole family. If you can help them to sleep better then everyone will benefit."
During his 27 years as a consultant, Dr Gibson has watched the team of respiratory professionals grow, first at Yorkhill Hospital and now at the Royal Hospital for Children.
From starting out with just two specialists, the service has expanded to a team of more than 60, including six consultants and a team of nurses and physiologists, with strong links with physiotherapists, social workers and psychologists.
Dr Gibson added: "The team are fantastic here, they have meant we have been able to develop Glasgow into one of the leading units in the UK for the investigation of sleep problems, particularly breathing problems in children. It only works because we all work together."