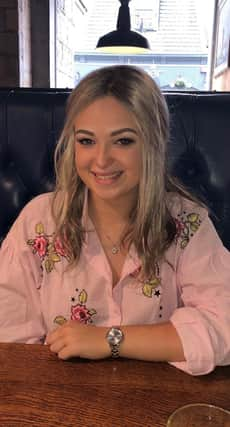 For Nicole Lowther of Queenzieburn did not have anaemia or tonsillitis as was also stated but stage three Hodgkins's Lymphoma.
And she had to visit the doctor more than five times before the correct diagnosis was given.
This was despite the fact she was displaying trademark symptoms of the condition including a lump on her neck.
Now two years on and after a course of chemotherapy at the Teenage Cancer Trust's unit in The Beatson in Glasgow, Nicole is part of the #Best to Check campaign, run by this specialist trust who acted as her lifeline.
The campaign calls on doctors to make specialist referrals, even if they do not harbour strong suspicions that cancer is involved.
Nicole said:"I was so tired that I was falling asleep in class and they initially treated me for anaemia.
"I had a nosebleed which just wouldn't stop and also noticed that I had a lump in my neck.
"I persevered with going to the doctors because I was getting so poorly and I was due to travel to Rwanda to volunteer.
"Therefore, one of the GPs who I hadn't previously seen put a huge push on investigating my case.
"I am forever grateful to her for listening to me.
"I think it is so important for people to go to the doctors no matter how small or unimportant you think your symptoms are.
"The most important thing is to persevere.
"You know your body best, never give up, go see someone else and in the end, someone will listen to you."
Dr Louise Soanes, Director of Services at Teenage Cancer Trust, said: "Cancer is thankfully rare in 13 to 24-year-olds, accounting for just one percent of all cancer diagnosis.
"However, because cancer is less common in young people, they often have to visit their doctor up to three times before they are referred to a specialist. We are worried that their conditions could go undiagnosed.
"Look out for lumps, bumps or swellings, unexplained tiredness, mole changes, persistent pain and significant weight change.
"If you are worried, contact your GP as soon as possible - an early diagnosis can save lives."
For more out more about #BestToCheck see www.teenagecancertrust.org/signs.