Good news for Scotland on World Mental Health Day
Walking, contacting family and friends and visiting green spaces are the most helpful ways to cope with stress caused by Covid-19.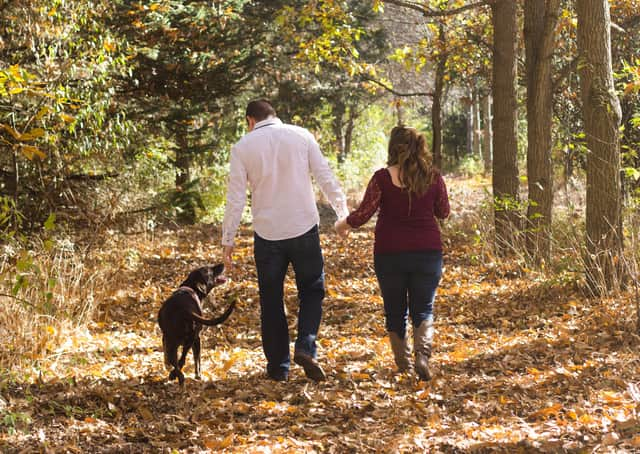 A walk...is the best medicine to cope with pandemic stress, along with keeping in contact with our family and friends.
New research by the Mental Health Foundation and collaborating universities has found that going out for a walk is most people's favourite coping strategy, with six in ten saying they found it helpful.
Keeping in contact with family members (51 per cent) and friends (49 per cent) were named as the next most helpful ways of managing, with visiting parks and green spaces in fourth place (48 per cent).
With more lockdowns likely this winter, finding ways to cope will become ever more important to our mental health.
For the survey also found that 84 per cent of Scottish adults had experienced stress because of the pandemic.
Lee Knifton, Mental Health Foundation director for Scotland, said: "At a very difficult time for many of us, millions of people across Scotland and the UK are using effective ways to improve their well-being.
"Going out for a walk, being in contact with family and friends and visiting green spaces are great ways for us all to protect our mental health."
The findings were from a YouGov survey conducted between August 27 and September 3, published just ahead of World Mental Health Day today (Saturday, October 10).
The Scottish Government has also announced it has developed a new plan to ensure mental health remains at the heart of its Covid-19 response.
Children and young people, those facing redundancy and people with long-term physical health conditions and disabilities are among key groups the plan focuses on.
Mental Health Minister Clare Haughey said: "If the past few weeks have told us anything, it is that the road to recovery from this pandemic will not be linear. However, one thing that has remained constant is the importance of looking after ourselves and of keeping well.
"I doubt there is a single one of us who hasn't thought about our mental well-being, or worried about that of others, at some point during 2020.
"Throughout this year, mental health has continued to be an absolute priority for this government and we've invested £6 million of dedicated funding to support the whole population.
"Our Transition and Recovery Plan for Mental Health reflects how fundamental this issue is. It is comprehensive, containing over 100 actions and focusses on the specific mental health needs of everyone across Scotland."
The plan prioritises rapid and easily accessible support for those in distress and ensures safe, effective treatment and care of people living with mental illness.
A tailored programme of work will help individual NHS Boards respond effectively to the anticipated increase in demand in the months ahead.
Welcoming the news, Lee added: "We are pleased to see the Scottish Government embark on a mental health in all policies agenda and to have played a role in shaping the plan.
"We have consistently advocated for an all policies approach so this feels like a breakthrough moment.
"Mental health is much more than mental illness; it must be considered in our schools, workplaces, welfare and justice systems.
"This plan is an important step in that direction."