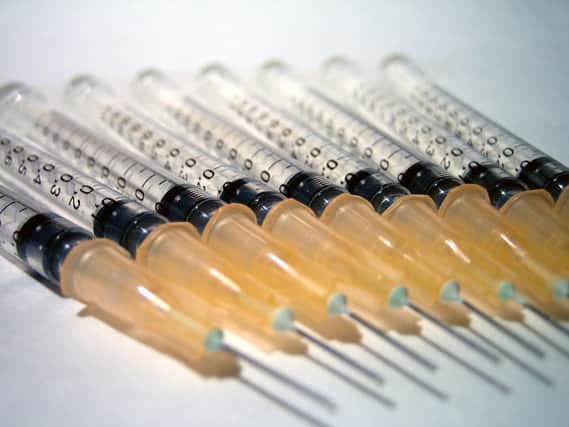 This newspaper has received a litany of complaints from concerned readers who have yet to receive a letter confirming when they will receive the jab that the Scottish Government is vigorously urging patients to take up.
One reader, who did not want to be named, gave a fairly typical account of a problem facing her elderly parents who are now playing a waiting game.
She said: "An initial letter talking about shielding and other ways to protect against Covid 19 was posted from the trust.
"This also explained that a letter regarding the flu vaccine appointments would follow. It outlined that if a letter did not arrive within a few weeks to contact a number provided.
"I waited for two weeks and contacted that number provided,
"However the information given only spoke about a service for residents in need of grocery deliveries who are shielding or living alone - in fact, nothing relating to the flu vaccine.
"I contacted the GP practice who informed me a letter would follow.
"This is the fifth week without a letter.
"People are being let down by a service which declares to take care of you from the 'cradle to the grave.'
"Perhaps local councillors should invest more and become more involved in the needs of local residents and push for answers,
"This could be a winter tragedy for people with health issues as Covid-19 is not going away.
"More people could potentially lose their lives if this is not addressed."
Responding to the criticism, Dr Mark Russell, Associate Medical Director, Health and Social Care North Lanarkshire, said: "This year,NHS Lanarkshire is delivering the vaccine to more than 300,000 people. We understand that people are anxious and want to know when they will receive this. We would like to reassure the public that everyone who is eligible, will receive an appointment.
"We are unable to provide details of individual appointments, as this is done nationally. But everyone in the priority groups will receive an appointment by the end of November.
"We know this is later than usual for some people, however we are vaccinating more people than previous years, within a relatively short period of time.
"There have been a number of challenges with delivering this year's flu programme that we are working to rectify"
"This is a new way of working for everyone involved and we are learning and adapting .
"We are appealing for your patience and understanding and we would like to reassure everyone that staff are working hard to make sure everyone gets their vaccination as soon and as safely as possible."