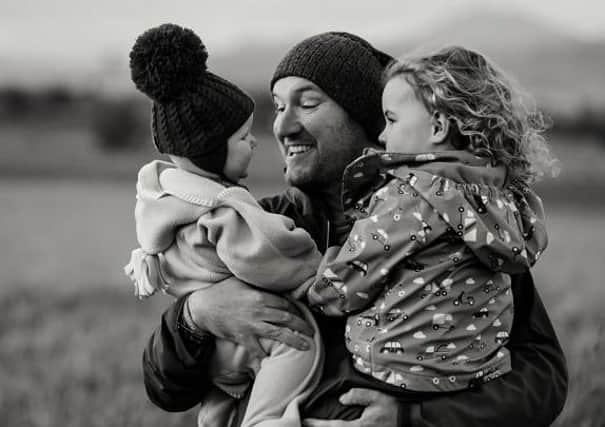 Lee Cromption (47) has two young daughters and diagnosed with stage IV anaplastic thyroid cancer following an operation to remove a seemingly innoucuous lump from his neck.
The cancer is a particularly rare and aggressive form of the disease with a 'positive outcome of six months'.
Lee says: "Within four days I was back in hospital to have the remainder of my thyroid and the surrounding tissue removed and have subsequently undergone radioactive iodine treatment.
"Three months on, it would appear that my cancer is not acting the way it should be, it's bucking a few trends and the next six to nine months will be crucial.
"All I can do is try and remain as positive as possible and hope for the best. Doctors and fate will do the rest.
"This is why I have decided to take part in the 50-mile challenge to raise money for Maggie's, who have been truly amazing during this extremely difficult time.
"Their support and kindness has been a huge source of strength and they have helped me and my family emotionally and mentally and I've also attended nutrition classes, had help with financial matters, getting wills sorted and the like.
"And above all, it feels like a safe, calming and friendly space the staff have been exceptional.
"So January will be an emotional month.
"For one, I'll hopefully get to see my youngest daughter's first birthday and it will also mark four months from my initial diagnosis, which is the average life expectancy for anyone with anaplastic thyroid cancer.
"I'd like to thank every member of staff I've encountered in Forth Valley Royal Hospital in Larbert, Queen Elizabeth University Hospital in Govan, Beatson West of Scotland Cancer Centre in Glasgow and the Maggie's centre who have just been superb.
"Even during a global pandemic, they've pulled out all the stops and I've been humbled by the levels of skill, care and compassion I've witnessed in the last few weeks. The NHS is a credit to this country.
If you would like to support Lee in his fundraising efforts see his Facebook page at https://www.facebook.com/donate/821332058649625/