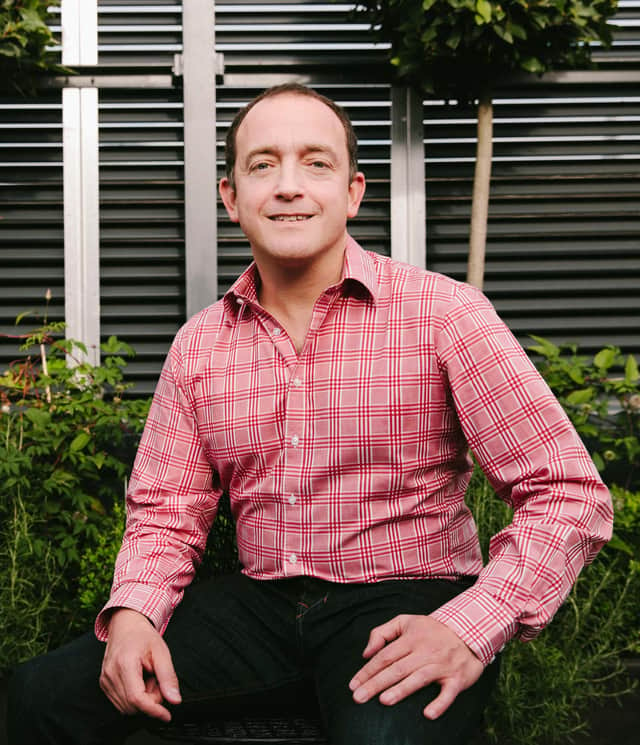 Gilad Tiefenbrun
The Chief Executive Officer of engineering company Linn Products knows only too well the devastating impact of the inflammatory bowel disease (IBD) on sufferers and their families.
Four members of his own family have suffered from Crohn's - the latest, his 14-year-old daughter.
At the moment, Edie is doing well - but the treatment she is on could stop working at any time.
Gilad said it really is "a race against time" to find a cure for everyone with the chronic illness.
He recently joined the board of Cure Crohn's Colitis (C3) - a Glasgow-based charity founded by his father Ivor. It is the only charity in Scotland, he said, which donates 100% of its funds to research to find a cure for Crohn's and ulcerative colitis, the two forms of IBD.
IBD has reached epidemic levels in Scotland affecting around one in every 100 people - mainly young people.
The diseases are devastating, progressive and life-threatening, and current treatments often don't work or only give temporary relief. There can also be nasty side effects.
Gilad said: "It really is a race against time for all IBD sufferers.
"Even though things are under control at the moment for my daughter with medication, you live in fear every day because it could stop working at any time."
"We need to accelerate things towards a cure. The prevalence is increasing. Nobody really knows why."
He added: "Covid has shown that when we need to get on top of something we can.
"As a charity, we want people to become more aware of just how serious this disease is."
As an engineer, Gilad feels that technology can help join the dots to find the cure patients so desperately need and deserve.
He said: "Intuitively, I am a technologist and I believe technology is the answer.
"I was in at the start of mobile phones. Back then, I could have said to you 'you will have a phone the size of your hand and it will be like a computer'. Back then, you would have said, 'what's an app?'
"Twenty years later, we all have them."
In the past, Gilad said, we have been reliant on large pharmaceutical companies to do it all.
But he said: "They only get involved in the biggest things.
"New technology now allows lots and lots of small bio-tech companies to get involved.
"The issue is that no two people will have the same IBD.
"We as a charity can help to unite the different strands - the genetic side, healthcare solutions which is the research side and the personal data collection side.
"Our role should be to connect these together, raise funds and then accelerate the move to a personalised approach to resolve IBD for every individual."
He added: "I know that sounds like pie in the sky but that's what we have got to try to do."
This was also the vision of Gilad's father Ivor who founded C3 back in 2005. He stepped back from being Managing Director of Linn in 2009.
Sadly, he also had to take a back seat from C3 when he developed a brain tumour, a result, Gilad said, of years of experimental treatment for ulcerative colitis.
Gilad said: "Dad went in for all this experimental treatment - it put him into remission but then 15 years later he got a brain tumour from it."
But he added: "My dad's vision was that Scotland was the perfect place to start this personalised approach - the size of the country and the homogenity of the gene pool.
"It would be totally doable in Scotland. It still makes sense."
Gilad's uncle had IBD and sadly passed away, and his brother has colitis.
He said: "I have been very close to the whole situation in my family. My dad suggested to me a year ago that he couldn't continue with the charity because of his health and I wanted to become involved."
Gilad also has nothing but praise for the care his daughter has been receiving at the Queen Elizabeth University Hospital in Glasgow, especially from the specialist IBD nurses based there.
He said: "They have been so wonderful. They do such amazing work and have been so efficient and supportive during my daughter's treatment.
"We were all in denial at Edie's diagnosis at the start. Then, in shock. I'm so grateful to the IBD nurses."
He added: "As a charity, we really want people to become more aware of the seriousness of IBD. There needs to be a greater urgency to find a cure."
To find out more about IBD and how you can help Cure Crohn's Colitis fund research, visit http://www.curecrohnscolitis.org