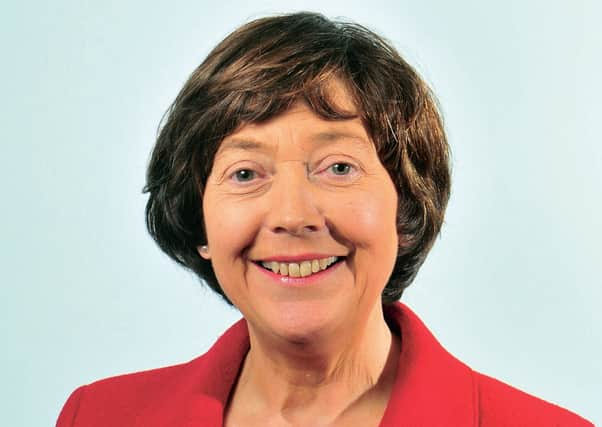 Dame Denise Coia, who passed away peacefully after a short illness, was a clinical psychiatrist and leader in the field of mental health whose work was internationally recognised.
An only child, Denise was born in Glasgow on June 4, 1952, and brought up in Milngavie. Her father Joe and her mother Jill ran a local fish and chip shop in Milngavie.
She attended Notre Dame High School and studied medicine at Glasgow University.
Denise met her future husband Archie Macdonald, a marine engineer from Benbecula, in Glasgow. They married in 1977.
Early in her medical career she switched from obstetrics which she had described as 'boring', to clinical psychiatry.
Her career as a consultant psychiatrist was largely based in the Gorbals. There she developed her life-long commitment to improving the mental health of the most vulnerable and disadvantaged in society.
Denise was a pioneer of specialist community mental health services across Glasgow.
Holding many official positions, she served as Vice-President of the Royal College of Psychiatrists UK. and was Chair of the Royal College of Psychiatrists in Scotland. She also served as the Principal Medical Officer in the 
Scottish Government.
As Chair of newly-formed Healthcare Improvement Scotland (HIS), Denise was tenacious in skilfully building a strong and internationally respected organisation focused on driving improvements in the quality of healthcare.
She was also not shy in asserting the organisation's independence from government and Ministers through the publication of hard hitting hospital inspection reports.
Fearing without reform the NHS could consume infinitely more resources, Denise took the opportunity – in a HIS public annual review meeting with the government – to give Ministers a warning about a possible parallel with the fate of the world's only seven-masted schooner, the Thomas W Lawson.
In simply adding more masts to compete with steamships, the schooner had not kept pace with the revolution in maritime trade. It ultimately failed and sank in a storm. Denise's message was clear – there was a need for the NHS to redesign and change with the times to survive.
Denise was appointed a Dame Commander of the Order of the British Empire in 2016. She was elected a Fellow of the Royal Society of Edinburgh in 2018. Denise took considerable interest in medical education and in supporting the development and training of junior doctors.
She chaired the GMC Scrutiny Quality Scrutiny Group overseeing the quality of postgraduate and undergraduate medical training in the UK. With Professor Michael West, she also led an extensive review into the mental well-being of medical students and doctors 'Caring for Doctors, Caring for Patients' published in 2019.
During her career, she championed the mental health of children and young people. Denise passionately believed in investing more in child and adolescent mental health services, and was therefore a natural choice to Chair the Scottish Government/COSLA Taskforce on Children and Young People's Mental Health.
Denise also served as Convenor of Children in Scotland in her last few years.
She had a passionate interest in art. In Glasgow's European City of Culture year in 1990 she established an exhibition from her mental health centre base of art work by those who had suffered from mental ill health and that of their carers.
She was immensely proud of her two sons, Alexander, a paediatric surgeon in London, and Andrew, an interventional radiologist in Oxford. Both graduated in Medicine from Oxford University.
Denise leaves behind her beloved husband Archie, sons Alexander and Andrew and three grandchildren.