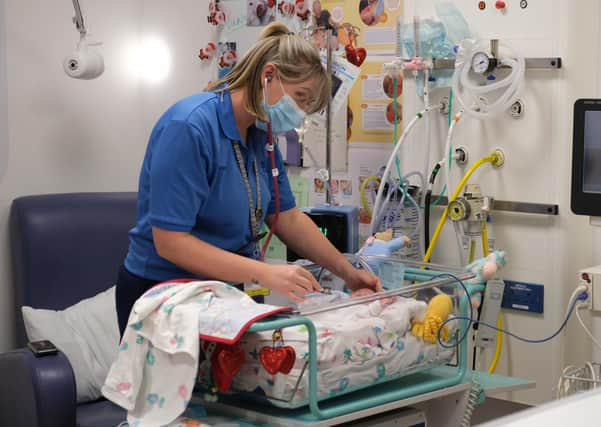 Jenna Gibson (35) is the very first winner of Scottish Neonatal Nurse of the Year since it was opened up to nominations.
Reacting to the award, Jenna, who works for Dumfries and Galloway Health and Social Care, said: "It was just complete and utter shock and really emotional. I still can't believe it."
Jenna was named Scottish Neonatal Nurse of the Year at the annual conference run by the Scottish Neonatal Nurses Group (SNNG) which features talks and presentations, and discussions about developments in neonatal nursing.
Jenna said: "The award has only been given out once before, last year, when it was given by the Scottish Neonatal Nurses Group (SNNG) to Alison Wright in recognition of her role as Conference Chair.
"This is the first time it's been opened up to other nurses, my colleague nominated which was really touching, but I never thought for one minute that I was going to win because it's throughout the whole of Scotland, but it was nice to be recognised."
Jenna trained as an adult nurse, but said: "I've always had an interest in midwifery and the baby side of things, and so I applied for a job 11 years ago to do my neonatal nursing and I've just progressed from there."
This year's SNNG conference was held online due to Covid-19.
Judges said that choosing this year's winner of Neonatal Nurse of the Year was 'such a difficult choice'.
Reading from her nomination, they said: "Jenna is that happy face that everyone loves to see in the unit. She is an inspiring leader and oozes positivity, even during difficult times.
"Her compassion and care are effortless, and she is a fantastic role model for everyone she works with. She's never too busy for relentless questions from bank staff like myself, or the parents who just need to chat. Jenna really is a true star."
The judges added: "A huge congratulations to Jenna – really well done."
Jenna had been on shift that day, and so did not get a chance log into the conference until later in the afternoon.
She said: "Nurse of the Year award was at the very end, as the very last thing, so that was nice to sit and watch.
"I had Clinical Manager Bill Irving and Head of Midwifery Karen King there and a couple of girls from the unit were watching at the same time. They listed everybody who had been nominated and then said I was the winner."
She added: "My colleagues were thrilled and so happy, and said it was very well deserved and they were dead chuffed.
"The whole year that we've had, it's just so nice to end on a bit of a happy note. And I don't really see that it's just me that's won this – it's nice for the neonatal unit as well."
Jenna, who has just completed a Masters in Advance Practice, is now set to collaborate with University of West of Scotland to highlight her achievement and illustrate how she has progressed her career through her studies, helping to inspire and encourage others.