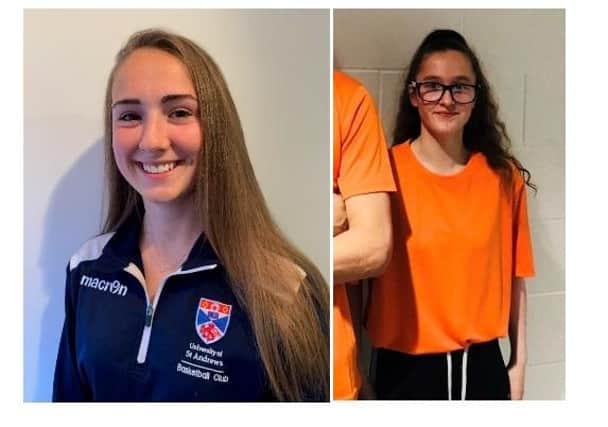 Kira from Barrhead, and Fiona from Giffnock, have been members of sportscotland's Young People's Sport Panel (YPSP) since November.
The panel is currently in its fifth two-year cycle and the 20-strong group have already started their work to help ensure the voice of young people is part of the sporting conversation across Scotland, in an initiative led by sportscotland and supported by Young Scot
Crucial to the National Lottery funded programme is that young people are heard and have the opportunity to influence decision making and drive change across the sporting system.
During a challenging time for the sporting sector and people across the country, mental health has featured prominently in the panel's discussions.
The YPSP have supported the sportscotland Walk and Talk campaign which started last June with the goal of encouraging people to set a time for a walk and talk with a friend, to help keep people active and connected.
With restrictions still impacting people across the Scotland, it has been harder for everyone to make time for their own wellbeing. But looking after your mental wellbeing is more important than ever. Staying physically active and building physical activity into a daily routine can have great results.
Fiona is in her second year studying psychology at St Andrew's University, she plays basketball for the university.
The 19-year-old is encouraging people to find what works best for them and what they enjoy the most, even small amounts of gentle physical activity can be beneficial.
She said: "Regular physical activity is important right now. If you can slot in a regular walk, run, workout or anything into your day it changes your view from a computer screen to the gorgeous outdoors. Try and notice your mood when you finish, you can often be chattier or more focused.
"For me, physical activity has always been a team activity, so it was difficult at first to deal with this shift as it felt like I wasn't being active for the reasons I know and love. I overcame this by setting up challenges with my teammates. We catch up if someone isn't working out as much to make sure they're okay and motivate each other on days we're a bit more down."
Kira is at Barrhead High School, she plays football and basketball for the school teams.
The 18-year-old added: "Sport and physical activity isn't just good for making you physically stronger, the number of mental benefits are incredible. Any form of exercise will release endorphins that will lift your mood as well as relieve stress."
Chief Executive of sportscotland, Stewart Harris, said: "Clearly this is an extremely challenging time for everyone in Scotland and beyond. While we all must continue to follow government guidelines, it is important to remember that keeping the body and mind active is crucial to our overall health as is staying connected in whatever way we can to friends and family.
"The Young People's Sport Panel is a programme we are very proud of and it has helped develop young people for eight years, it wouldn't be possible without the National Lottery and lottery players."