Barrhead woman finds the words to mark 75th anniversary of VJ Day
Barrhead resident Isabella 'Belle' McCreadie has been named the winner of a UK-wide poetry competition to mark the 75th anniversary of the end of the Second World War.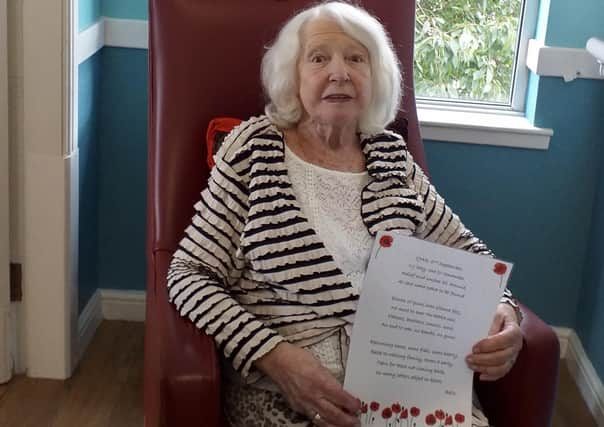 Belle (85), who lives at Norwood Care Home on Victoria Road, won Advinia Health Care's Poppy Competition with her emotional recollections of the day victory over Japan was officially declared on September 2. 1945.
During the Second World War, Belle and her loved ones endured hardship and heartbreak, so she remembers the relief clearly.
Proud Belle said she was delighted to be crowned the winner and that when she sat down to write the poem, the words came easily.
Belle said: "My Uncle Alex fought in the war, as did many of our friends and neighbours – they were terrible times.
"We were out dancing when the news came through, and it was wonderful to think the war was finally officially over. Remembering that moment came very easily to me.
"It's amazing to win this competition, I've told everybody!"
The Poppy Competition is just one of the initiatives Norwood and other Advinia Health Care Homes have been running to ensure their homes stay connected with their communities.
Wellbeing & Engagement Lead George Dewis said that this particular activity had been very popular with residents.
George said: "When I read Belle's poem, it brought a tear to my eyes – you can feel the pathos in every line.
"We've found that our residents have enjoyed the chance to talk about their experiences in the war and to express how they felt in poetry and drawings.
"It's humbling for those of us born after the war to hear their stories and remember the sacrifice made by ordinary people all over the UK."