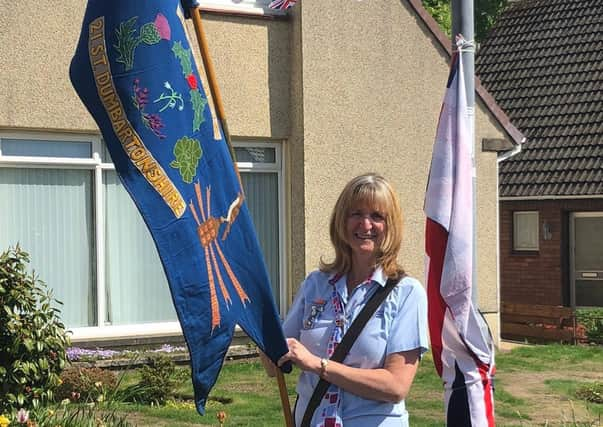 Covid-19 put paid to the commemoration – but it didn't stop the community spirit of local residents.
Callum Dewar, VE Day organiser for Lenzie, said: "It would have been the first time, since the original VE Day Parade in 1945 that the Boys' Brigade, Girls' Brigade, Girlguiding, Scouts and Army had all come together for a 
parade in Lenzie!
"However, Lenzie residents showed their community spirit. Over the week residents were busy creating bunting, posters and flags to decorate their homes, churches, shops and school gates to bring some colour and cheer to the area.
"It was suggested we commemorate our veterans, with buglers playing at 2.55pm and pipers to play the tune 'The Battle's O'er' at 3pm, the same time as Winston Churchill's speech on the May 8, 1945. In Lenzie we had no less than 15 pipers playing at 3pm, Lenzie Old pealed their bells and there was even singing of the famous Dame Vera Lynn song, 'We'll Meet Again' at the Queens' Buildings.
"The rendition was very powerful and has been shared on Facebook for others to 
enjoy.
"After the acts of commemoration, many streets held their own celebrations in the form of 'Stay at Home Street Parties'.
"In total, there were 11 of these parties happening from people's own front gardens, with people playing music, enjoying food and drink, and basking in the sunshine, while all sensibly social distancing.
"At Lilyburn Care Home, residents enjoyed the sound of the pipes, flags and bunting, waving and singing, all from their garden space.
"In Birch Drive, Girlguiding leaders decorated the streets with bunting and enjoyed piping and drumming.
"It was amazing to hear the stories of neighbours partying while staying in their own gardens.
"Even though our original plans had to be cancelled, I do feel that having this style of event has brought our community closer together.
"My thanks to all participants – the youth organisations, the schools, the churches, the local shops, East Dunbartonshire Council and Provost, The Lord Lieutenants Office, and my fellow community councillors."