Driving test waiting times: backlog leading to booking delays at 9 in 10 test centres
Driving school calls for booking system overhaul as DVSA data reveals huge differences between centres just a few miles apart
Watch more of our videos on Shots! 
and live on Freeview channel 276
Visit Shots! now
Learner drivers are facing booking delays at almost 9 in 10 test centres, according to new data.
Figures from the Driver and Vehicle Standards Agency (DVSA) show that in late November students were still facing an average wait of more than 15 weeks for a practical driving test, with 66 test centres reporting backlogs of more than five months.
A Freedom of Information request by the AA Driving School found that learners faced booking delays at 88% of test centres, with an average wait of 15.5 weeks to secure a practical driving test slot. However, it also found that many centres still had no availability within 24 weeks - beyond which the DVSA doesn't take bookings - and revealed massive variations between test centres just a few miles apart.
In January, transport minister Richard Holden said that the backlog - created by the coronavirus pandemic and lockdowns - would be cleared "within months" and waiting times would be back to their pre-pandemic average of six weeks. However, he also confirmed that the waiting time was still 15.1 weeks.
According to the DVSA data, learners hoping to book a driving test in Swansea in November faced a 20-week wait but just 12 miles up the road in Llanelli, the waiting time was 10 weeks. In Kent, candidates could book a test in Canterbury after waiting just two weeks, however nine miles away Herne Bay had a 22-week waiting time. And for learners near Cheetham Hill, Manchester, being willing to travel seven miles to West Didsbury test centre would have saved more than three months waiting for a test - 22 weeks compared with six.
Camilla Benitz, managing director at AA Driving School, said: "Driving test delays continue to have real-life implications for thousands of people who need a driving licence to get to education or work. Being able to drive is also incredibly important for maintaining social connections, supporting relatives and gives you more independence in general, especially in rural areas.
"The backlog data we obtained shows learners across the country face months of delays. In some areas you could have searched on 1 November 2022 and only been offered a test from 18 April 2023, if at all."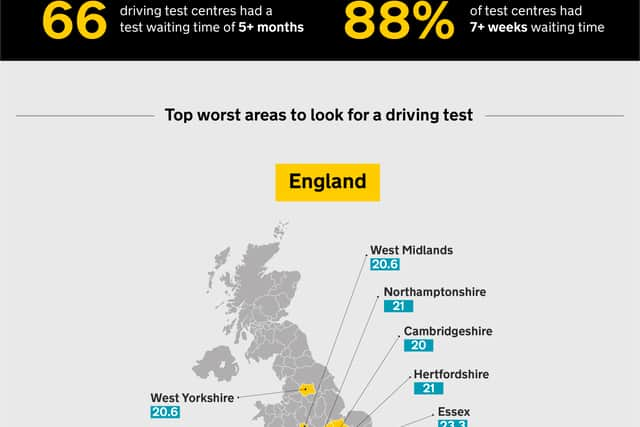 She said the booking system needed to be overhauled to make it easier for candidates to find appointments.
"There is no easy way for candidates to check availability at multiple test centres without checking each one manually. A better system could save many weeks of waiting as our data showed wait times varied between some local test centres by as much as three months," said Benitz. "We'd like to see test centre wait time data published regularly by the DVSA to help ensure there is full accountability in getting back to pre-pandemic waiting times."
'Our learners feel enormous pressure'
Live Unlimited is a charity providing a free driving lessons scheme for care leavers living in the London Borough of Barnet. It says it has had to suspend accepting new applicants due to problems in securing driving test appointments.
Its operations director, Sue Cocker, said the charity had been left "no choice" by the huge delays and its current intake of learners were left feeling under massive pressure to pass their test and avoid a long wait for the chance to resit.
She said: "Finding available driving tests has become an increasing issue for us since Covid. We currently have six care leavers who are test ready but simply cannot find an available slot, even using multiple test cancellation apps. They are despondent, while the lucky few who've secured a test feel an enormous pressure to pass first time.
"Our Driving Ahead scheme is a game changer for a care experienced young person, providing new employment opportunities, building confidence and independence. Yet such are the difficulties in finding driving test slots we are currently suspending new applications onto the scheme. We hate turning people away, but we have no choice."