Glasgow has been powered by coffee and cake through the hard times and the good over recent years. Here's 20 independent places to visit that only exist in our local neighbourhoods.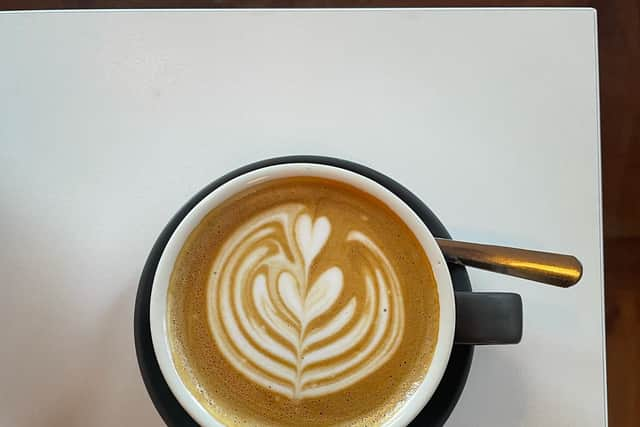 1 Café Strange Brew
1082 Pollokshaws Rd, G41 3XA
A compact, cool and dog-friendly cafe in Shawlands. Go for Glasgow's best brunch with quirky, colourful creations like a pancake stack with cinnamon spiked plums, blackberries, white chocolate sauce, vanilla ice cream, hazelnut and oat brown butter crumble or a baked eggs skillet with confit duck, roast butternut squash, molten blue cheese and parsley. Order espresso, macchiato, Americano, cortado or latte.
2 Spitfire
Spitfire Espresso sits on one of the great vantage points in the Merchant City, across from the Ramshorn Church and with a view of some of the apartment buildings that triggered the next stage of redevelopment on nearby streets. They are a friendly bunch and serve up an excellent cup of coffee.
3 Papercup
603 Great Western Road, G12 8HX
They started out here introducing their specialty coffee and attracting the brunch bunch in 2012. Since then they have built a reputation for a top espressos and meals featuring organic meats and fresh farm eggs. In normal times, expect "positive vibes and uplifting tunes". The kind of relaxed, friendly neighbourhood café that you would like at the end of your street. Order the muffuletta: a New Orleans pressed focaccia with cold and cured meats, peppers, olives and cheese.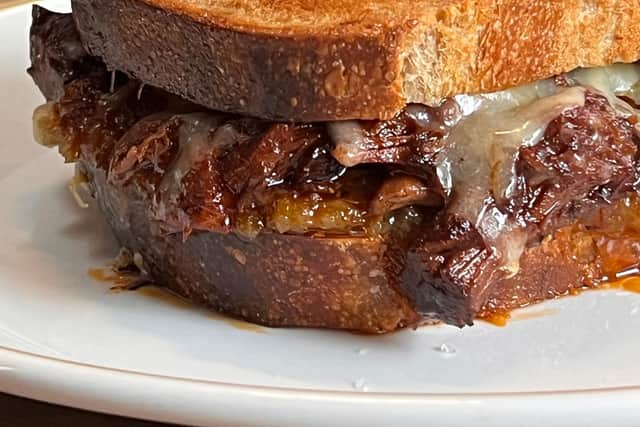 4 Outlier
A community-focused cafe and bakery on London Road is the start of an ambitious project to create a contemporary art space between the Calton and Trongate. The building was previously Steven's textile studio, before that it was a bookies. Steven says: "I was doing long shifts, sleeping in the studio, working on screen-printing orders. I realised that life wasn't for me. I wanted to open a coffee shop and I saw there was a gap right here, a disconnect between this area and the Merchant City. I was always confused about why there wasn't something like this in this part of town."
"I applied for planning permission and it was consistently refused. It turned out there was a rule about the percentage of businesses this side of the Saltmarket that could serve hot food and hold an alcohol licence. I read a lot of council documents and saw there was a plan to reconnect the Calton to the rest of the city centre so I started having conversations about where this project fits into that aim."
Steven's background working at venues like SWG3 and The Arches added layers onto his coffee shop plan: "We are working on a 1000 square feet of garden space that will open next year alongside a wine bar in the back of the unit and an art gallery that will be the centre of what was a warehouse space. We will expand on established connections with Glasgow School of Art to offer a platform for recent graduates to showcase their work. After the winter we hope to have a restaurant offering."
Try an espresso by the Good Coffee Cartel - alongside popular sandwiches like their chicken Parmo with bacon, Béchamel, Loch Arthur cheddar, Parmesan, spring onion, chives, spicy tomato sauce on house ciabatta. From the bakery, ask for a rhubarb galette or cardamon bun.
5 Us Vs Them
This East End coffee bar is also a creative space for the local community. They change their coffee supplier four times a year. Owner James Aitken says: "We are buying coffee that has not been seen in the area. This is exciting for consumers but also for us". You can also find them on Sauchiehall Street, on the ground floor of the McLellan Works offices.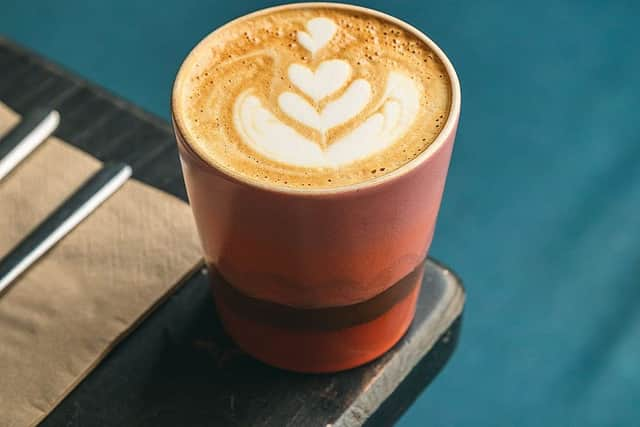 6 Morning Glory
657 Great Western Rd, G12 8RE
Coffee, breakfast, takeaway snacks and good times, from the people who brought you Five March. Go for Dear Green Coffee and Eteaket tea. Order a fried chicken sandwich or bacon and egg brioche roll with onion jam and chipotle mayo.
7 Short Long Black
501 Victoria Road, G42 8RL
Come for the coffee, stay for the pies, baked fresh each morning. Flavours include ham hock, cheese and potato or vegetarian haggis. Look for lemon meringue tart, cinnamon buns, carrot loaf, and chocolate cookies straight out of the oven for dessert.
8 Grain and Grind
50 Battlefield Road, G42 9QF
They take a global approach to coffee with blends from Tanzania to Guatemala. Look for local Bungo, Marchtown and Queen's Park roasts. Visit for substantial sandwiches, packed flatbread wraps and donuts. They have expanded to be a major neighbourhood presence in the city, with cafes in the West End, Battlefield, Cathcart, Giffnock, Strathbungo and Victoria Road.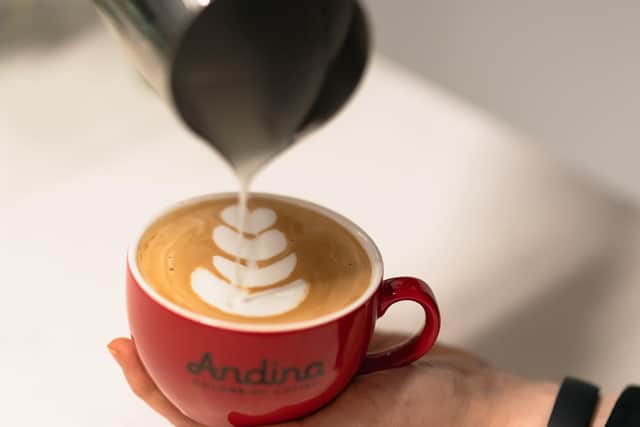 9 Andina Coffee Co.
Maria Varela moved from Colombia to Glasgow in 2017 and set out to work with Fair Trade suppliers to bring quality coffee beans from artisan farms in her home country to this small coffee bar on Duke Street. Look for Three Sisters Bake brownies at the counter.
Andina also sell "Wayuu Mochilas" and "Arhuacas Mochilas", handmade bags created by the Wayuu and Arhuacos indigenous groups of Colombia. Each bag takes up to 6 weeks to be made and no bag is the same as another one. You can also find them at 1274 Argyle Street in Finnieston.
10 Salmagundi
1007 Cathcart Road, G42 9XJ
A Mount Florida cafe serving speciality coffee like Sipi Falls and Guadalupe Zaju, both from Thomsons Coffee, on filter. For lunch, order a kimchi toastie with a side of celeriac and pistachio soup or maybe cauliflower and cumin fritters with hummus, tzatziki, pomegranate jewels and pickled onions, topped with a perfect poached egg.
11 Black Pine Coffee Co
518 Great Western Road, G12 8EL
A bright, welcoming wee coffee shop. They will make you a toastie with bread from Freedom Bakery and cheese from near neighbour IJ Mellis to go with your latte.
12 Riverhill Cafe
A buzzy cafe near Central Station, their coffee is supplied by Dear Green. Cake, sandwiches, savoury pastries and salads alongside daily specials. Try their breakfast bagels or a roll and sausage.
13 Willow Grove Coffee
531 Sauchiehall Street, G3 7PQ
A dog friendly multi-roaster coffee shop on Sauchiehall Street at Charing Cross. Sit in and takeaway orders, morning pastries and waffles, wraps and soups at lunch. Chocolate brownies baked in-house.
14 Good Coffee Cartel
12 Cornwall Street, G41 1AQ
Your friendly neighbourhood environmentally conscious coffee shop. They've been at the forefront of zero waste packaging since they opened in 2017. You can enjoy tasty cakes sitting by the window, pick up merchandise like caps and mugs or order takeaway coffee, including iced coffees. They are also offering brew classes.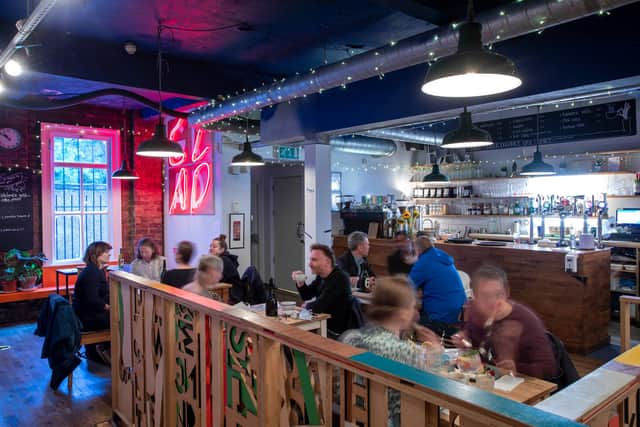 15 The Glad Cafe
1006A Pollokshaws Road, G41 2HG
A Shawlands cafe and not-for-profit music venue serving high quality coffee from Machina Espresso and cakes from local suppliers. Vegan and vegetarian small plates and a wide selection of craft beers also available. They also make vegan pizza.
16 Gordon Street Coffee
Gordon Street has been roasting their own coffee in small batches here since May 2014. Their Glasgow Roast, available to buy by the bag is a blend of beans from India, Kenya, Brazil and Guatemala for a well-balanced cup of coffee. Popular with travellers on the go at Central Station, they'll also organise you a breakfast roll in the morning.
17 Dandelion Cafe
Newlands Park Pavilion, 26 Lubnaig Road, G43 2RY
Two locals, Mairi Darroch and Suzanne Stevenson, took on an abandoned tennis pavilion and set about restoring it as a 1920s arts and crafts revival cafe. They've succeeded, creating a cosy cafe for brunch, cake and coffee.
18 Honey & Salt
25 Carmunnock Road, G44 4TZ
Vegetarian cafe serving sourdough toasties, plant-based snacks and baking. Fresh bread daily. Try a tahini swirl and roasted pistachios brownie with a Brazilian flat white or El Salvador black coffee.
19 BAM Glasgow
44 Nithsdale Road, G41 2AN
Speciality coffee from guest roasters and cake from local bakers from alongside vintage items, gifts and cards to buy. A coffee shop with a lot of personality.
20 Big Bear Bakery
54 Sinclair Drive, G42 9PY
Sourdough, pastries, sandwiches, much in-demand celebration cafes and coffee. Ian and Dominique Pedriani set up their family-run bakery in 2007 and since 2018 they've been operating from a wildly popular shop in Battlefield every weekend. They opened up in Partick last year. Order cream cheese cinnamon buns, empire biscuits and pastel de nata.
It all started with one significant purchase. Lisa Lawson had been in Australia, backpacking around the country. She found a job and learned how to roast coffee. When she came back to Glasgow, she sold wine and then ran a cafe. She still had a keen interest in the coffee world and often thought about everything she'd learned - where and how the beans are grown, their different flavours and preparations. Then came the moment of truth. Lisa bought a second-hand coffee roaster machine.
Now she is running Dear Green roast coffee in the East End and you will find bags of the stuff in cafes and homes across the city.
Lisa also founded the Glasgow Coffee Festival which has made a home at The Briggait, an annual gathering of the Glasgow coffee community. She is a big believer in the part local independent cafes play in the local community: "Go a walk, have a look at the street art and architecture on your way, visit a cafe, buy a coffee and find out a little about their story."
For updates on city centre life, follow the #LoveGlasgow hashtag across social media for inspiration, city guides, what's on listings, days and night out ideas this spring.