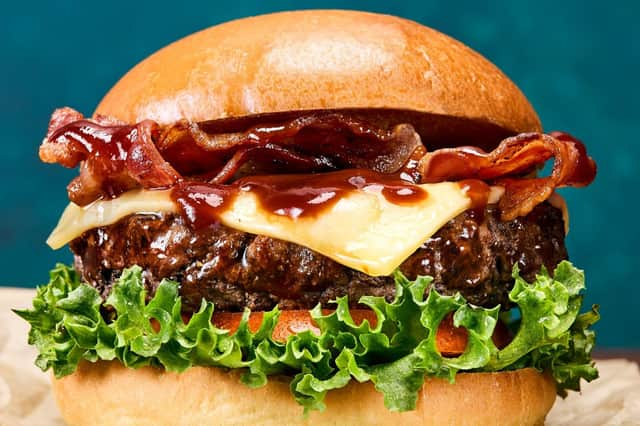 Hard Rock Cafe has been flippin' incredible burgers since it opened its doors in Old Park Lane, London in 1971, and the BBQ Bacon Cheeseburger has been a firm fan favourite in its cafes worldwide; fresh and tender steak burger, seasoned and seared with a signature spice blend, topped with house-made barbecue sauce, cheddar cheese, applewood bacon, leaf lettuce and vine-ripened tomato.
Available for nationwide UK delivery thanks to its partnership with meal kit experts Plateaway, the mouth-watering Hard Rock @Home steak burger box serves two or four and comes with all the delicious fresh ingredients you need for a good night, so you can get as close as possible to recreating the world-famous Hard Rock Cafe experience.
Cook, assemble, enjoy; you just need to add a great soundtrack and someone to share it with.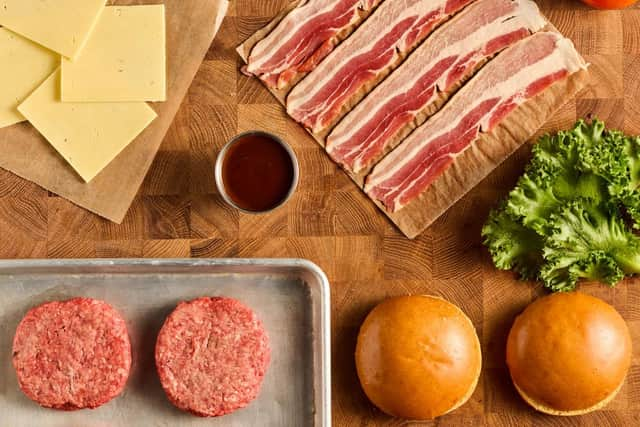 The Hard Rock @Home (steak burgers) for 2 contains:
2 x 7oz fresh steak burger patties
4 Slices of Cheddar cheese
Hard Rock's steak burger patties are made up from 100% UK & Irish Beef. Made to our exact recipe, and always fresh, using Black Angus Beef, the Hard Rock Steak Burger is made from whole muscle steak cuts. This meat is sourced from family-owned farms. It contains NO artificial flavourings, colourings or preservatives and is fully traceable, from farm to fork.
As delicious as this steak burger is, maybe you want to 'amplify' it a little. If so, here are some additional toppings recommended by the Hard Rock team: jalapeños, grilled onions, grilled mushrooms, classic burger relish pickles.
Stefano Pandin, European AVP for Hard Rock Cafe International, commented: "The BBQ Bacon Cheeseburger is one of the most iconic items on our menu, so it's only right that it's the second Hard Rock @Home box that we launch; we've been blown away by the reaction to our meal kits so far and expect the steak burgers will go down just as well."
Harry Slagel, co-founder at Plateaway, added: "Here at Plateaway, our aim is to provide our loyal and hungry customers with the best DIY meal kits, and this partnership with Hard Rock Cafe is a fantastic addition to our offer."
Available to order now, the Hard Rock @Home can be ordered from www.plateaway.com/restaurants/hard-rock-cafe/ Steak burger meal for 2 - £19.95; steak burger meal for 4 - £39.95.
Did you know... Hamburgers got their name from Hamburg, Germany where a cut of beef called the Hamburg steak is from? This evolved into what we now know as the hamburger.