National Pizza Day 2023: 5 best places to get pizza in Glasgow, according to Tripadvisor reviews
Celebrate National Pizza Day in style with one of these delicious Glasgow-based restaurants
Watch more of our videos on Shots! 
and live on Freeview channel 276
Visit Shots! now
If you're looking for a reason to eat out or takeaway, look no further than National Pizza Day. If, like us, you don't need a national holiday to tell you to eat more pizza, it's likely you're already lining something delicious up this week - why not try one of these Glasgow-based pizzerias.
Pizza is a dish of Italian origin and is one of the world's most popular dishes. Its ease, variety and flavour has made it a part of almost every culture across the globe.
From the thin-crusted Neopolitan and Greek pizzas to the mammoth Chicago deep dish, if there's ever a day to sample them all it's National Pizza Day. To help you with your search, we've compiled a list of the best pizzerias in Glasgow based on Tripadvisor reviews. Read on to find out if your favourite made the cut.
The best pizza restaurants in Glasgow according to Tripadvisor reviews
1: Romans Pizzeria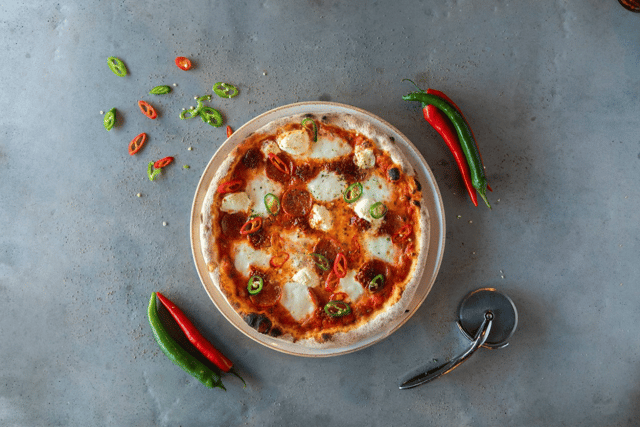 Where: 44 Howard Street Merchant City, Glasgow G1 4EE Scotland
Rating: 5/5
"My friend and I had a couple of delicious pizzas and shared them with a salad and bottle of Primitivo - really fresh ingredients and a thin and crispy base. Highly recommended"
"Food was amazing, hands down the best pizza and carbonara I've ever had, defos coming back!"
"From food to cocktails, I can't recommend Romans highly enough. It is somewhere that I will definitely be visiting again in the near future"
"This is our new go-to Italian. I love pizza & pasta and both are SO GOOD here!!"
2: Paesano
Where: 94 Miller Street, Glasgow G1 1DT Scotland
Rating: 4.5/5
"To be able to provide outstanding service and outrageously delicious pizza to a crowded room of 150 or so people is a monumental achievement. An amazing experience!"
"We thoroughly enjoyed the atmosphere and food at Paesano's. They had true Naples-style pizza which was delicious. Prices were reasonable."
"Great pizza . Excellent appetisers. Great service. Excellent desserts. Better pizza than anything I've had back home in US."
"Authentic pizza, lovely range of toppings, well cooked with great service"
3: Pizza Punks
Where: 90 St. Vincent Street, Glasgow G2 5UB Scotland
Rating: 4.5/5
"Great service. Prompt, friendly, patient and everything we ordered came quickly and was tasty."
"Best pizzas in Glasgow, cheap and delicious. Great vibes and honestly the best service! "
"Excellent pizza, lots of different standard pizza and the create your own option has loads of choice of toppings. Always a great atmosphere"
"Brilliant, very atmospheric place, tasty food and superb staff, helpful and dedicated. Always good decision to pop in there."
4: Mozza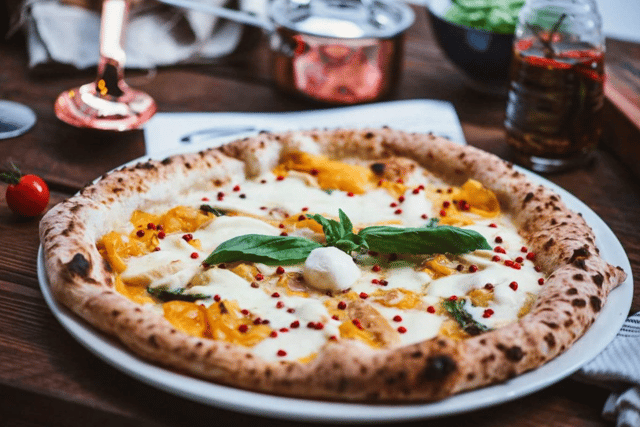 Where: 39 Renfield Street, Glasgow G2 1JS Scotland
Rating: 4.5/5
"The pizza was as good as any pizza I have eaten in Italy. Absolutely fantastic!! I had the Margarita and it was made with very simple ingredients, but had a true authentic Italian flavour...absolutely brilliant!"
"Pizza is amazing and delicious. Ordered number 13 and was not disappointed - chefs went the extra mile to make each one special. Staff are so nice and welcoming. Can't recommend enough."
"Very friendly staff and excellent pizza. I would definitely recommend it to anyone who wants to try truly Italian pizza. Big thank you to the chef."
"Me and my wife popped in and have to say this is one of the best pizzas we've ever had. Staff were brilliant too, will be back for more!"
5: Baffo
Where: 1377 Argyle Street, Glasgow G3 8AF Scotland
Rating: 4.5/5
"The best pizza dough in Glasgow. Good choice of toppings, light, fresh delicious. Looks huge (12 inch) but we could both eat all of it, even after it had cooled down. "
"We had a great family dinner here whilst visiting Glasgow. The pizzas were some of the best we've ever eaten, and the antipasto platter was sensational."
"Great food and service, nothing more to say other than a great atmosphere and handy location. Tasty food and competitive prices."
"Great place to go for a chilled dinner. Our drinks came promptly and so did the pizza. The pizzas really were fantastic, especially with the garlic and chilli oils."